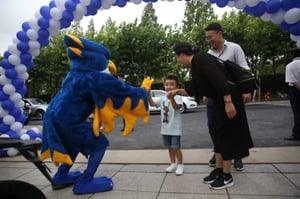 The 2019/2020 school year is off to a great start at Concordia International School Shanghai. We are extremely happy to have our returning families back with us this year, and we are excited to welcome many new faces to our school community.
A Warm Welcome at This Year's Orientation
Earlier this month faculty and staff received students and families on campus for our start-of-school orientations. The events were lively, full of excitement and expectation, with parents having the chance to chat with teachers and other members of the community, while students collected schedules, explored classrooms and met some of their new classmates. On the first day of school, over 1,320 students, along with families and teachers, began the year together at our opening assembly.
Upgraded Facilities and Innovated Learning Spaces
There were many new things to see and experience as families entered the school gates. Over the summer our campus underwent quite a few changes, resulting in some wonderful additions to our facilities—especially our outdoor learning spaces. We've reimagined the outside recreation space for our middle school students and added a colorful, purpose-built play area for the early childhood classes. In addition, we've added a garden space designed by 4th graders in collaboration with our Kindergarten students, and in high school, we have a new open-air rooftop classroom that students themselves helped to envision.
Concordia Word of the Year
This is quite fitting, as "envision" happens to be the word-of-the-year selected by our Class of 2020 students. With such an auspicious world to inspire, we can't help but imagine all the wonderful possibilities that are in store for our students and our community during the 2019/2020 school year. We already have several exciting events in store, including our first-ever homecoming celebration, complete with a spirit-driven pep rally and Phoenix Friday athletic event. And there are plenty more engaging community activities planned in the months to follow.
With all these exciting additions and the wonderful community events in mind, we at Concordia are surely "envisioning" another amazing year.