Mr. Sgourdos's AP Comparative Government and Politics classes ran their Putin Press Conference Simulations, centering on the current Russia-Ukraine conflict.
The main objective of this activity was to create a student-centered approach to look at complicated and divisive political issues, such as the ongoing Russia-Ukrainian conflict. "By empowering students to look at these political and military conflicts from multiple lenses, we are setting the groundwork to develop more open-minded and critical thinkers at Concordia, through authentic experiential learning," adds Mr. Sgourdos.
The Distance Learning activity was conducted via Zoom. Students were divided into groups and had to play different roles, including Russian President Vladimir Putin, Putin's press secretary & advisors, and journalists from international and Russian media.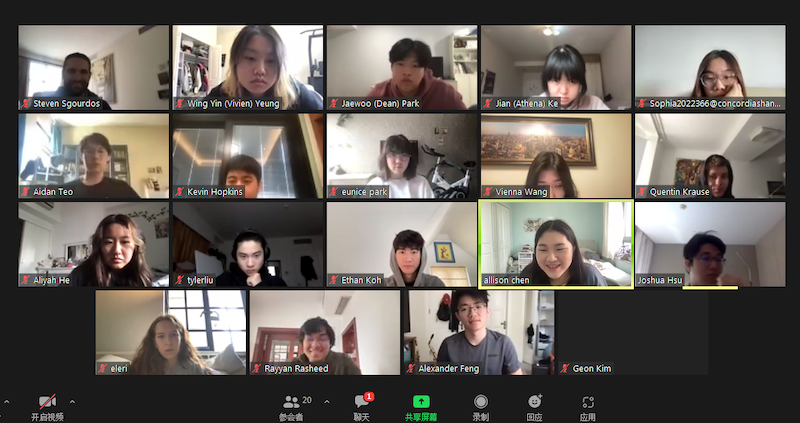 During the simulated press conferences, President Putin and his press secretary & advisors were challenged to answer tough questions raised by the media members.
The press conferences were heated, as topics ranged from Russia's relations with the West and with near abroad to the challenges to the state (such as oligarchs, Western sanctions, and Western propaganda) and Putin's public support.
"This simulation was not about producing winners and losers, but instead, to help students become more engaged global citizens," says high school social studies teacher Mr. Sgourdos.
From our Applied Learning (AL) program, to encouraging a student's participation in these student-centered activities both in a traditional classroom setting and/or through Distance Learning (DL) framework, students are receiving the 21st Century skills that are both necessary and transferable into today's global economy. And in doing so, we will continue to help prepare students not only for the global community they are being raised in, but become engaged global citizens, which will produce dividends in the many years ahead.
About AP Comparative Government and Politics
At Concordia, the AP course in Comparative Government and Politics introduces students to fundamental concepts used by political scientists to study the processes and outcomes of politics in a variety of country settings. The course aims to illustrate the rich diversity of political life, to show available institutional alternatives, to explain differences in processes and policy outcomes and to communicate to students the importance of global political and economic changes.
Careful comparison of political systems produces useful knowledge about the institutions and policies countries have employed. Through comparison we will examine questions such as: Why are some countries stable democracies and not others? Why do many democracies have prime ministers instead of presidents? In addition to covering the major concepts that are used to organize and interpret what we know about political phenomena and relationships, the course will cover specific countries and their governments. Six countries form the core of the AP Comparative Government and Politics course: China, Great Britain, Iran, Mexico, Nigeria and Russia.