Most parents are aware of Concordia's academic achievements, but did you know that Concordia also has an excellent track records in athletics? In fact, athletics are enshrined in Concordia's mission statement and are considered to be co-curricular, as opposed to extra-curricular.
This means that athletics are considered to be an extension of the school curriculum, as place of student learning and experience. This distinction shows a commitment that is unique in Shanghai.

We talked with Concordia alumnus Micah Baermann ('20), who talked about his journey from international school to an NCAA Division 1 team in the United States. As noted in the interview, very few High School student athletes achieve the goal of playing college sports, and even fewer achieve it at the Division 1 level. Micah sheds light on the challenges he faced and gives advice to current Concordia student athletes.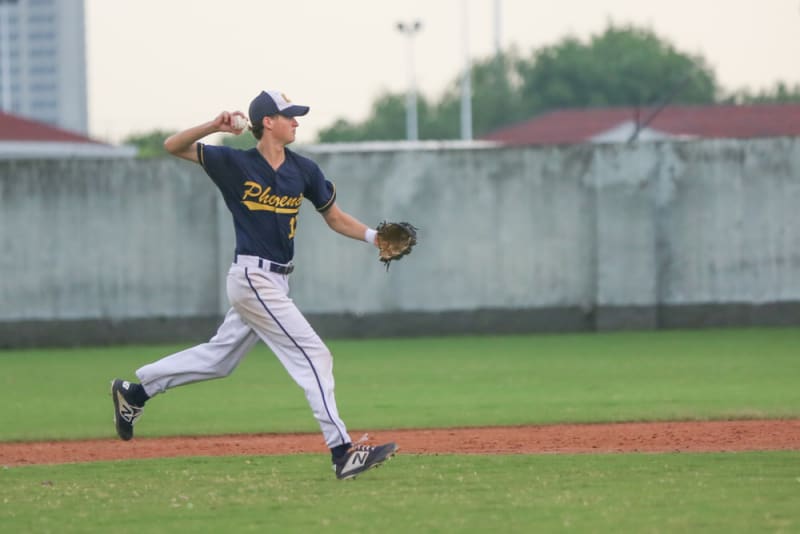 Can you talk a little about the process from going from an international school to a D1 program? What were the biggest challenges you faced along the way?
Coming from an international school, I definitely had to work harder than kids coming from American schools to get noticed by college coaches. I think that the biggest challenge for me was finding ways to connect with coaches during breaks because my school seasons were not being watched.
Although many students want to make it to the next level, about 7% of High School student athletes play in college and less than 2% play at a NCAA D1 school. What did you do that put you in this position? When did you start playing, did you do extra training outside of school, etc.
I have been playing baseball since I was about 4 years old, and over the years I've had several different coaches and teams. While it's important to have a solid foundation in a sport, high school is when you have to stand out if you want to play collegiate sports. It's not so much important how well you do in your school season as it is that your perform at private events where coaches will be looking for recruits. The summer before my senior year, I flew to Michigan, New York, and Florida to play baseball in hopes of getting recruited. A big part of succeeding in those situations is not worrying about how good everyone else around you is. You just need to focus on giving your total effort and performing to the best of your ability.
The choices that you make on a daily basis are very important. There were days where I didn't want to go throw or work out, and if I hadn't pushed myself to do those things, I probably wouldn't be where I am right now. There are also important choices that you have to make with your priorities. My junior year, I really wanted to play basketball, but I knew that my time would be better spent lifting and training for baseball. Sometimes you have to give up things that might be more fun in order to achieve a larger goal.
I know you played multiple sports here at Concordia. Can you talk about whether or not that was a positive or negative?
Playing sports at Concordia was a very different experience from a high school in the US, mostly because students at Concordia tend to prioritize academics more than US students. Despite less emphasis being placed on sports, I loved being able to play multiple sports at Concordia. I've always enjoyed the camaraderie that comes with playing team sports, and being involved with multiple teams gave me opportunities to get to know people that I might not have been able to otherwise. In addition to the sense of community that playing multiple sports brings, playing soccer and basketball were great cross-training for baseball. Baseball tends to be a sport that places less emphasis on cardio and endurance, so the practices for soccer and basketball got me into shape for baseball season. Overall, I would definitely recommend getting involved in different sports.
How did playing sports in High School affect other parts of your life? We like to talk about how sports benefit students when it comes to time management, grades, personal discipline, etc. Did those sorts of things occur in your life?
Playing sports in high school, even multiple sports, does not prevent you from getting good grades or having a social life. I think time management is an important skill to have if you're trying to compete at a higher level or even just get better at sports while succeeding in school. The best example I have of this is not myself, but one of my classmates, Mady Chen. Mady played two varsity sports and still had the time to have the best GPA in our class.
A big part of succeeding academically and athletically is focusing on what you're doing in the moment. When I was training or playing baseball, I wasn't thinking of anything other than how I could do better or help my team. When I was doing work, I wasn't thinking about baseball or any other sport. I think that keeping things separated in your head is important for success in multiple facets of life.
What other struggles would be important to share with student athletes who aspire to do what you have already done?
The biggest piece of advice that I would give to anyone else who is trying to play collegiate sports is to persevere even when things aren't going to plan. Coming into senior year, I hadn't received any offers to play Division 1 sports. The offers I had received were from Division 2 and 3 schools. Playing any sort of collegiate sports is fantastic, however, the schools that I had the opportunity to play at didn't really interest me from an academic or social standpoint. So I went through the college admissions process normally, and I was accepted into several great schools; I eventually decided on Davidson. Even though I likely would not be playing baseball there, I continued to train and get stronger. I reached out to the baseball coach when I decided to attend and asked if I could try out for the team before the end of the semester. After the try out I was asked to come back in the next semester for a second try out, and was told to work out and get stronger over the break. I worked out almost every day for 2 months, and then came back from break with 10 more pounds of muscle and the coaches noticed. After my second try out I was invited to join the team.
The point of this story is simply to show how important it is to keep striving for your goal, even when it doesn't feel like you have a chance. I certainly never thought I had a chance to play Division 1 baseball, and to be honest, I don't think anyone else really did either. Regardless, I never would have been able to do this if my parents hadn't been so supportive of me throughout my life. Oftentimes they were the ones pushing me to work out or go to showcases, and I would advise anyone else looking to play sports in college to lean on their own parents for support as well.