Concordia Shanghai's high school principal recently received a letter from the head of the Advanced Placement Program with some exciting news about one of our graduates from the Class of 2021.
The letter announced that Concordia alumna Chaejeong [Cindy] Hyun received a perfect score on her AP Computer Science exam back in May 2021. This is quite a "rare accomplishment," wrote AP Program head Trevor Parker, and is an achievement that is "shared by only 356 students worldwide."
He went on to applaud Cindy's hard work and dedication to the study of computer science. He also acknowledged the role of her AP teacher in engaging students in such a high-level course and credited the school for providing "top-quality education."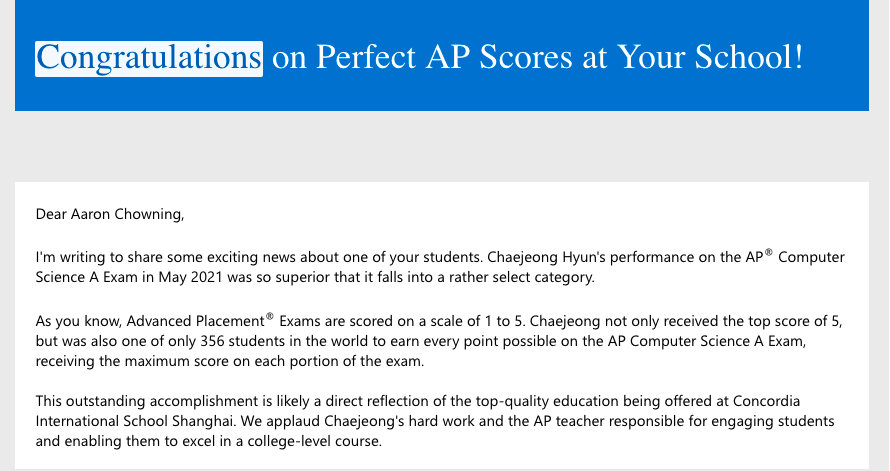 We caught up with Cindy to get her reaction to the news and find out what's next for this exceptional student. Here's what she had to say:
How did you feel when hearing the news of your perfect score?
Although I felt good about my performance after the AP computer science test, I did not expect that it would lead to a perfect score. I felt very overwhelmed yet proud to be able to express my passion and deep understanding for computer programming through this result and I also felt very lucky to be able to perform to the best of my abilities in a test taken worldwide.
What factors do you feel played a role in this rare achievement?
I must say that there were a lot of factors involved in not just this score but in my overall achievement, confidence, and attachment to computer science. First of all, I had a genuine curiosity and interest in coding even before taking the AP Computer Science course which was the initial driving force for my dedication to the coursework and to the subject area in general. This allowed me to be cautious and diligent when writing code and to aim for perfection in every task.
My AP Computer Science teacher, Mr. Deetlef, also provided great guidance and prepared me very well for the test by not only being very willing to assist me when I approached him before and after classes with some questions, but by also constantly giving us tasks and tests with similar level of difficulties as the AP test. Before every test or quiz, I practiced multiple previous AP free response questions from College Board to familiarize myself with developing code for various types of tasks.
By getting in the habit of writing handwritten code, constantly revising my code to a more efficient and accurate method, and by striving for perfection, I was able to grow as a student and future programmer very quickly throughout the year. My extra devotion and interest in computer science, Mr. Deetlef's willingness and great guidance throughout the year, and my development of meticulousness through constant practice of material were what allowed me to earn this perfect score!
The AP Computer Science course allowed me to figure out my aptitude for programming and motivated me to dig deeper into this field of study in college and beyond. My Java programming knowledge gained from the AP course has provided me a strong basis for my current studies in Python and other programming courses in the future.
Cindy is currently a freshman at KAIST (Korea Advanced Institute of Science and Technology) where she is planning to double major in computer science/engineering and electrical/electronic engineering.
Congratulations, Cindy! We know you have many more amazing accomplishments in your future!