In Concordia's Applied Learning Storytelling Agency class, students explored the art of storytelling and its ability to build empathy through advocacy. Additionally, students worked with a variety of storytelling course partners to create stories that fostered compassion and awareness within the Concordia community and beyond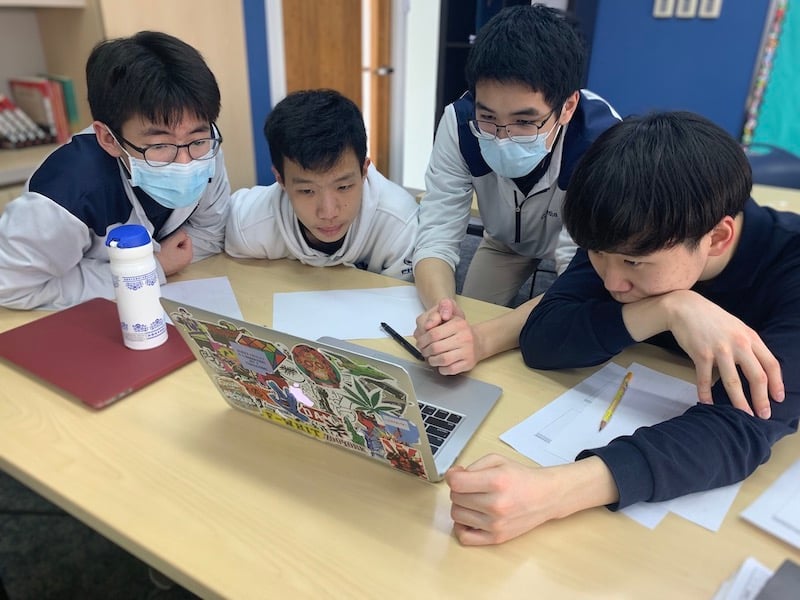 Students gained valuable storytelling skills through conducting empathy interviews, crafting and sharing inspiring stories, and utilizing the design thinking process to develop and execute prototypes. To showcase their newfound learnings, students facilitated thought-provoking activities, created insightful videos, and designed captivating narratives that fostered empathy around sensitive topics like the Syrian refugee crisis and homelessness.
This experience was especially impactful for students as they learned about the compelling work of the course partners and were inspired to take action and share their work with the community. The following excerpts are just a handful of the course partners students worked with throughout the year.
Our Partners
Alex Myterbi - Teen Changemaker
Alex Myteberi, a young boy from Scarsdale New York, has been an activist for Syrian refugees since he was six years old. Upon seeing an image of Omran Daqneesh, a Syrian child caught in the violence of the Syrian Civil War, Alex responded by writing a letter to former President Obama in 2016. President Obama was so moved by Alex's empathy and compassion that he referenced his poignant plea during his address at the United Nations Leader Refugee Summit in 2016.
Inspired by Alex's interview and advocacy, AL Storytelling Agency students created a children's book which celebrates one youth's uncanny ability to make a positive impact in the lives of their fellow human beings: Syrian refugees.
"I would say that refugees are as important as us. They deserve to be treated like us and we need to stand up and help them." Alex Myteberi
Covenant House- Redeeming Los Angeles Homeless Youth
Covenant House is a non-profit organization that has helped transform and save the lives of millions of homeless youth across North America. They offer immediate help through supplemental housing as well as providing programs that aid and support their future success.
Upon working with Covenant House, the team was able to further understand the needs and circumstances of people who experience homelessness. From this, students created a curriculum that was presented to the high school student body over the course of a week, which helped foster empathy and understanding among the Concordia community.
"Impact doesn't have to be big, it can be something as small as providing someone a place to sleep and wake up for breakfast." - Anthony Conley
Help4Refugees - Sharing Stories of Empathy One at a Time
Help4Refugees, an organization co-founded by Mr. Jordan Hattar, serves as a voice for the oppressed refugees by sharing their stories and advocating for their needs. Upon learning about the Syrian Refugee crisis, two student groups reflected on their own privilege and were inspired to raise awareness for the crisis that is still happening today.
To foster empathy and personal connection in the community, one student group used Help4Refugees' Refugee Curriculum to educate classmates through an assembly, homeroom activities, and a live panel with four refugee students. The other group collaborated with an asylum seeking family in Jordan and created a poetry collection to highlight their voices and draw personal connections.
Together with the Concordia community, the groups were able to personally fundraise enough funds for eight laptops to be sent to refugee families in support of their education.
"We are not defined by what we have, we are defined by what we do with what we have." - Jordan Hattar
International Justice Mission - Rehabilitating Human Trafficking Survivors
International Justice Mission or IJM, operates in South Asia, South America, and Africa to rescue and rehabilitate human trafficking victims and to restore justice. Upon Speaking with IJM Specialist Rehab and Social Services Director, Ms. Shalini Newbigging, the Concordia storytellers were touched and fascinated by the resilience and hope exemplified by trafficking survivors.
Inspired by Ms. Shalini's insight into IJM Aftercare Programs for the South Asia region, the team created an original story that illuminates the different stages of trafficking and rehabilitation. Their collective endeavor was to not only shed light on trafficking victims' personal responses to trauma, but to also edify their path towards healing.
"Our conversation with Ms. Newbigging was so empowering. Her experience and passion in working with human trafficking victims taught us the kind of mindset and dedication that we would not have been able to learn from reading a textbook." - Lillian F., HS Student, Storytelling Agency
Shining Star - Guiding Guangdong's Left Behind Children
Shining Star is a nonprofit organization that works with Left Behind Children in Guangdong, China. Without the guidance and support of their parents, these children often find it difficult to navigate through the challenges in life. Shining Star strives to build strong character and values in these children to help them grow into successful adults. The volunteers are often people who were helped through other support themselves, and this is their way of giving back the love and care they received to these children. Their story has fostered empathy in our hearts and inspired us to try to make others more aware of their work. A Storytelling student was grateful to have helped to capture their stories of transformation and character resilience in Guangdong.
"No matter how rich you are, how much knowledge you have, service is important, because it teaches you to be and humble and have sympathy" - Ms. Summer Tan, Founder of Shining Star
Third Culture Coffee - Empowering Farmers of Yunnan
Third Culture Coffee is a social enterprise run by students in the AL Social Entrepreneurship course that seeks to empower farmers in Yunnan, create socially conscious coffee, and teach students how to manage a social enterprise. In an interview conducted by the class, Social Entrepreneurship's teacher, Anne Love, provided insight regarding the impact that teachers purchasing TCC have on the livelihood of farmers. Inspired by this discussion, an article was written regarding TCC's authentic story to capture their productivity in Yunnan and encourage a wider consumer base within our Concordia community.
"Taking the time to learn about how consumers of TCC are making an impact on local farmers really opened my eyes as to how we can make an impact on others." - Aidan L., HS Student, Storytelling Agency
Trevor Lai - Sparking Creativity and Storytelling in Students
UP! Studios creates original characters and stories and brings them to life through animated content, storybooks, toys, merchandise, digital media products and experiences for the whole family. UP! Studios works with world-class businesses, editorial and creative teams to build and market IP internationally.
Storytelling class members helped facilitate a school wide challenge that allowed all students in Concordia to let their creative juices flow. They were encouraged to create an illustration, a story, a storyboard, or an animated video of a character created by UP! Studios or Concordia's school mascot Blaze. The Creative Challenge received over 100 entries, and many of them are posted on Up! Studio's social media.
"This journey with Trevor Lai has taught us that we are all capable of doing something great and make an impact on someone else's life. " - Charles W., HS Student, Storytelling Agency
XiaoHuSai - Creating Social Impact Through Tea
XiaoHuSai is a social enterprise that sells organic tea sourced straight from the fields of XiaoHuSai village and ensures fair pay to the tea farmers. 100% of these profits go toward scholarships for tea farmers' children. Inspired by this action, the team created two videos to advertise the organization: one regarding its social impact and the other one showing the process of packaging.
"Think about these villagers, they need to provide for the needs of their own family and relatives while barely having enough left to support their children in school," shares high school student Daniel W. "That's why we want to ensure they get paid the money they deserve."
"By working so closely with the leaders, we were able to make the best of our resources to help XiaoHuSai reach their goals." - Kevin Y., HS Student, Storytelling Agency
Baobei - Providing Life-Saving Surgeries to Abandoned Children
Baobei Foundation, founded in 2008, strives to forge connections between hospitals and orphanages to provide surgeries and post-surgical rehabilitation for Chinese orphans. If untreated, these individuals would be burdened with life-threatening birth defects.
Ultimately, Baobei has flipped the narrative for over 100 near-death children who are now healthy and thriving with loving families. An interview with Evelyn Tai, the director of Baobei, encouraged students to empathize with underprivileged families and incentivized them to reeducate communities on adoption policies and traumatic experiences.
"One of the things that's just most fun about it is the way a community ends up developing around a single child. And you'll have people from different countries, people who otherwise probably wouldn't be friends or wouldn't really connect in a meaningful way, because they share love for this one child." - Evelyn Tai
Dinah Rau - Teaching Healing Through Art
Dinah Rau, the creator of Art For Real, is a self-taught painter who is passionate about unearthing the "hidden beauty tucked away amidst painful memories." Mrs. Rau created the Art for Real platform to encourage the process of healing and introspection through painting.
Through her artwork, Mrs. Rau expresses her belief that art can bring restoration, catharsis, and hope especially for those experiencing or recovering from trauma. Upon facilitating an interview, students were empowered by Ms. Rau's positive message and consequently inspired to practice self-acceptance and expression through artistic mediums.
"Mrs. Rau's interview is a reminder that In our seemingly mundane lives, it is never too late to open our eyes and truly see the beautiful world that we live in," explains Sophie Z., a member of the Storytelling Agency class.
"You might not realize it yet, but we all have something that we're great at. We all have something beautiful to offer to the world." –Dinah Rau
Renew - Providing Refugee Women with Meaningful Work
Re:new is an NGO apparel company based just outside the Chicago area that employs refugee women and provides them free training in sewing and English. They are extremely motivated with regard to helping refugee women two years at a time to gain transferable life skills that would allow them to accomplish their career endeavors and fully integrate into American society.
On our part, we chose to create posters with an accompanying podcast to best help communicate Re:new's values as an instrument of social change.
"The best part of this project was learning about Renew's method of handling bullying amongst the women, as it was an unforeseen challenge that arose from a romanticized idea of bringing refugee women together." - Stephanie Dan
Freedom Through Learning - Empowering Disadvantaged Children Through Education
Although currently on hiatus, Freedom Through Learning is "a global collaboration between extraordinary educators and caring people who are willing to step up and make a difference."
During an interview, students learned that Concordia faculty members Brian and LeeAnne Lavender founded FTL, a nonprofit organization in 2013 while teaching in Nairobi, Kenya. FTL has worked with many schools in Kenya and beyond to provide educational resources, such as books and classrooms, to disadvantaged children throughout the world.
"I never had encountered people before who were so incredibly generous, so incredibly driven, and yet because of their life circumstance they're at the bottom of the heap economically."- Mrs. Lavender