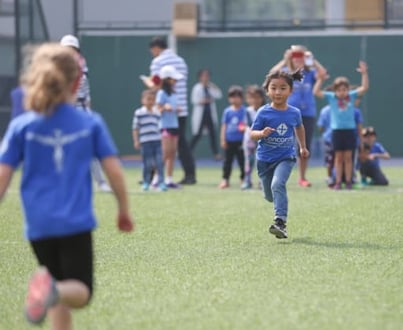 The goal of physical education at Concordia is to encourage a student's enthusiasm for physical activity and channel it toward improving motor skills, building sportsmanship and having fun. With nine health and physical education specialists across four school divisions at the school, students are exposed daily to the benefits that physical activity has on both their physical and emotional health.
Fitness Knowledge and Habits begin in PE class
Physical education commences for Concordia students at age three with specialized Music and Movement classes that focus on motor skills development. These active, music-filled sessions help our youngest learners to improve their movement and balance. As students grow, physical education teachers introduce them to more complex games and challenging activities.
In physical education classes, students have an opportunity to play many types of games. At recess and after school, students are able to invent their own games or practice skills they've learned from a PE teacher, coach, friend or parent. It's important for young children to play a variety of games, find things they enjoy and develop skills and abilities that help them to excel.
Co-curricular Activities Offer Additional Opportunities for Students to Engage in Sports
After school, there are sports and athletic activities offered to students from elementary to high school. At each level, sportsmanship is developed and competition introduced in developmentally appropriate stages. Elementary school students can participate in activities that increase stamina and focus such as swimming, dancing, Kung Fu and Zumba. They may also opt to participate in team sports like soccer, basketball and volleyball throughout the year. Middle school sports are broken into semester one and semester two activities, which allows students to choose from eleven different sports, from cross country and ultimate Frisbee to badminton and softball. Interschool competitions are also available to middle school students and include sports like soccer, baseball and swimming, among others. In high school, students have three sports seasons with thirteen different competitive sports to choose from. As a member of the Shanghai International Schools Activities Conference (SISAC) and the Asia-Pacific Activities Conference (APAC), Concordia athletes have the chance to compete in sports tournaments with schools in Shanghai and throughout Asia.
Playing sports and staying fit should be an integral part of every child's life, and when it comes to physical activity, there is something for everyone at Concordia.
Annie Hall Paulson is an Elementary School Health and Physical Education Specialist at Concordia International School Shanghai.