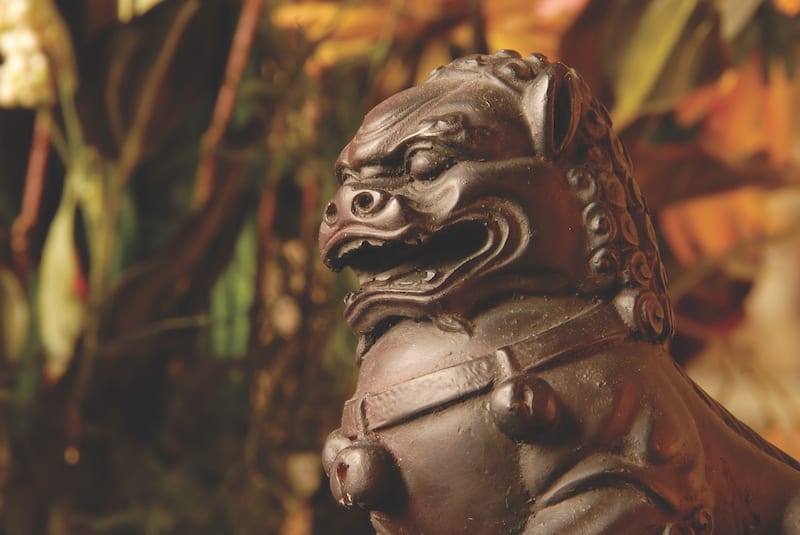 The history of dogs in China goes back so far that historians can only speculate when they were first introduced, but sufficed to say it's thousands of years. In Imperial China dogs were prized by members of the Imperial Court, specifically the Pekinese breed. Only members of the Imperial court were allowed to own Pekinese dogs and at any time there might be up to 100 of them in the Forbidden City.
Of course, dogs in China were and are used as work animals for protection, hunting and herding as in the rest of the world. However, the political events of the 1960s saw the keeping of pet dogs labeled as bourgeois (perhaps because of the ancient Imperial fascination with them) and as with other things labeled as such, there was a purge of pet ownership and many pet owners as well. This purge was so extensive that many ancient Chinese breeds almost became extinct and were only saved by being taken abroad. The massive food shortages at the time did not help the dogs case either. Since then, having dogs as pets has slowly started to return to mainstream Chinese life and has in the last decade seen a surge in popularity.
This is not to say that the stereotypes of the previous generation have disappeared, as they haven't. For many in China, dogs are primarily seen as dangerous, potentially diseased animals and there remains much prejudice against dogs among this part of the population. These people tend to be the elderly who lived through the events of the 1960s and young people who have limited experiences with dogs as pets. It's not uncommon to see an elderly local cross the street to avoid passing too close to you and your pet.
Though past events underlie much of the current sentiment towards dogs in China, sensationalized media coverage of rabies infected dog attacks in the past decade has also had an effect. These isolated incidents were covered by the media and prompted mobs of people in rural China to kidnap and kill all the dogs in an area on a few occasions in order to prevent further attacks. These events and the media coverage of them did not speed the adoption of more pet friendly attitudes in China.
More recently, a sign of the changing times can be seen in the steadily growing protests over the annual Yulin Dog Meat Festival which has gained international media attention including the backing of celebrities and international organizations as well as many local Chinese. However, while the growing protests are a sign of changing attitudes, the national and international attention brought to the issue has had the unintended side affect of making the festival even more popular at least in the short term. For many Chinese, there is no social stigma attached to eating dog meat and, in fact, the act of eating dog meat constitutes an act of defiance against social pressure to end the practice. It's not unusual to see a picture of a dog on restaurant signage in rural China – usually a Golden Labrador for some reason.
While China is not a rabies free country, municipal governments have made concerted efforts in recent years to eradicate the disease in China by offering free traveling rabies vaccination centers all over the country in rural areas. By law, all dogs in China must be registered and vaccinated and dogs are issued a license and vaccination book that are required for entry at many dog parks and if you want to travel by plane with your pet.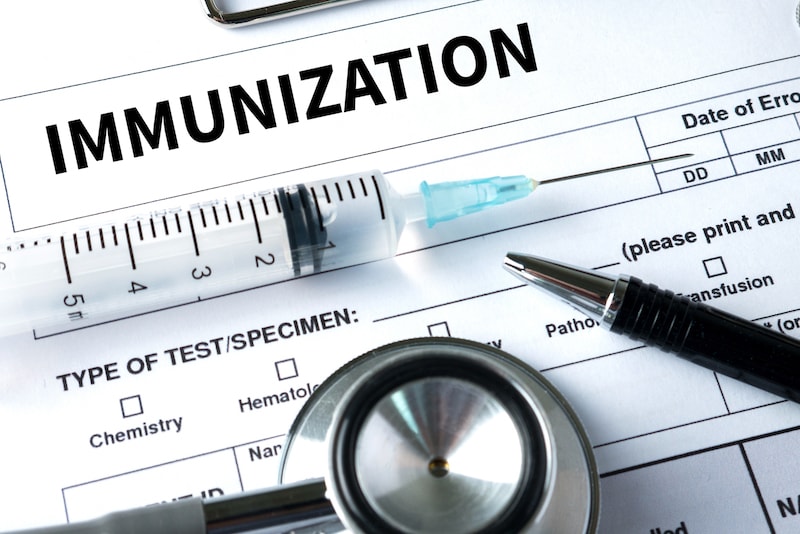 Past hysteria about rabies means that you must be diligent about keeping your pet on a leash while in public preferably with a secure harness to ensure they can't escape while out and about. If your dog has a history of biting, a muzzle is recommended. If your dog does get off its leash and even touches a stranger, the effect is often similar to having hit that person with your car – if your car had rabies. The 'affected' party will demand that you pay for rabies shots at the local hospital and may demand additional compensation for 'psychological damage' they suffered as a result of the 'attack'. Their threat to get the police involved if you don't pay up is a real one and could end in the confiscation of your pet by the authorities. Some of this behavior is brought on by general ignorance and prejudice of the majority of the population when it comes to dogs. In other cases, people will simply see an opportunity to extract money from the situation. If your dog is properly registered and vaccinated the threats should be hollow but be aware that things can get out of control quickly depending on how you choose to handle the situation.
Part of the problem with public perception of dogs in China also lies with Chinese dog owners themselves who are generally not steeped in the dog culture of western countries and as such, they tend to be less diligent about cleaning poop and pee and controlling their pets barking. In Hong Kong by contrast, there are public dog poop areas and people tend to be diligent in bagging poop. Many dog owners even carry around a water bottle to dilute the areas where their dog pees.
Furthermore, the practice and culture of spaying and neutering dogs is not widespread in China leading to more aggressive male dogs and unwanted puppies. Those puppies are abandoned or passed on to others who often abandon them after realizing that animals need to regularly poop and pee and this requires unwanted work. The strays that result from this practice are the real potential carriers of rabies.
The other side of the coin
While a prevailing negative or ambivalent attitude towards dogs does exist in China, you will meet a seemingly endless number of locals that are fascinated by your pet and many are not shy about approaching you to ask if they can pet your dog. While these interactions are overwhelmingly friendly and positive it is good to be aware that most locals will try to pat your dog on the head rather than offering their hand palm down for your dog to smell before starting with a touch on the side of your pets head rather than the top. Learning some basic Chinese and instructing interested locals on how to pet your animal will be very useful.
If you have an ayi (domestic helper) you will most likely enlist her help in walking and cleaning up after your dog. This is a particularly good benefit to having a dog in China as the work involved in caring for your dog will be all but eliminated. That said, finding an ayi that loves your pet as much as you do will not be an easy task. Most ayis come from rural China and will not see your pet as a beloved member of your family as you do, but if you are using an agency to find your domestic help, you will be able to find one that likes dogs in general or is at least ambivalent about them.
It will be important to train your ayi on how to walk, feed and interact with your pet. You cannot assume anything in this regard. Providing dog treats to your ayi and helping her to train your dog to sit is a good start. Emphasizing caution when she is walking your dog with regard to children and adults that may want to interact with your pet is also advised. Most expats will say that their dog grew to love the ayi and vice versa as they spend all day together and provide mutual company.
What to expect in Shanghai
Shanghai cannot be considered a dog-friendly city. Most parks and public spaces are not open to dogs on leashes or otherwise. Only a few restaurants tolerate dogs in their outdoor areas, but while the selection of venues may be limited, that also means that you will be in the company of other dog lovers should you choose to visit. If you want to eat and drink with your dog here are a few suggestions:
Cotton's
This restaurant is a Shanghai standard that has been around much longer than most expats. Both their locations are open to dogs inside and out though the Xinhua location has a bigger outdoor area.
Blue Frog
A staple of the expat dining scene for a decade, Blue frog has locations across the city and welcome dogs on their patios – provided they are well behaved.
Abbey Road
This long-standing expat favorite for drinks welcomes dogs inside as well as outside on their shady patio.

Transporting your dog
Taxi drivers will never be happy about a dog in their car but this is mostly because of dog hair and the danger of pee. If you are hailing a taxi on the street, don't be surprised if getting a taxi is more difficult. If you are not alone, have your companion hail the taxi and stand a few meters away looking the other direction and this should solve the problem. As a matter of courtesy, taxi and DiDi drivers will appreciate if you bring a towel to put on the seat for the journey – even if it wasn't necessary. Dogs are not permitted on any public transport in Shanghai or elsewhere in China.
So where can my dog run free in Shanghai?
As any dog lover knows, next to eating, running with other dogs is your dog's favorite activity. In Shanghai you'll need to be prepared for a bit of a car ride to access off leash facilities for dogs but your best friend will surely appreciate the effort. Here is what's on offer in Shanghai:
Binhai Forest Park
Located adjacent to Pudong Airport, Binhai Forest Park is best known for its spring tulip displays but also for being one of the best places for your dog to run free. Though it is an hour and 10 minutes from downtown, its also located next to Binhai Golf Club so there is perhaps an opportunity for a dual purpose jaunt if you like to golf. Admission is 40RMB and don't forget your dogs license and registration as they will be required for entry.
Address: 118 Dongda Highway, near Hongxiang North Road, Pudong. 浦东新区东大公路118号,近宏祥北路
Open 8.30am-4pm daily.
Pet Park
Located south of the city in Songjiang District, Pet park has fenced fields with agility courses for your dog to run and while English speaking staff won't be present, someone will help if there are language barrier issues. Admission is 20RMB with presentation of your dog's papers.
Address: 1 Maoche Lu, Tongjian Village, Yexie Town, Songjiang District. 松江区叶榭镇同建村毛车路1号 (近车亭公路)
Open 8:30am – 4:30pm daily
Ding Ding Pet Park
Located on the site of a working farm in the same district asa Pet Park, this park has a doggie swimming pool, ample green space and plenty of toys to play with.
Address: 1272 Yexinzhi Lu, near Xixing Highway, Songjiang District. 松江区叶新支路1271号,近西兴公路
Open 8:30am – 5:30pm daily

Xuhui Riverside Public Open Space
One of the few public spaces in Shanghai that allow owners to run with their dogs, this Xujiahui park also has areas for picnics and lounging in addition to the running paths.
Dongan Lu, near Longteng Avenue, Xuhui district
Shanghai Sculpture Park
This park is definitely most interesting pet-friendly park on our list. Located in Sheshan, as you might expect there are many sculptures to look at but also a beach, and other kids activities. Admission is 120RMB and 20RMB for your dog. Always bring your dog's papers just to be sure.
1158 Linyin Xin Lu, near Jiasong Nan Lu林荫新路1158号, 近嘉松南路
Open 9am-5pm