The Prekindergarten classes at Concordia International School Shanghai competed in their own version of the 2022 Beijing Winter Olympics throughout the week. In addition to the students having a lot of fun, they also learned about the unique athletic skills needed to complete in winter competitions, sportsmanship behaviors needed in a global competition, countries around the world, and teamwork.

Strong bodies, strong athletes
First, the children learned about what "winter games" mean, as referred to within the Olympics. The children learned about hockey, ice skating, bobsledding, and skiing. Many of our students have never seen these sports, so this was a fun and relevant way to introduce these unique sports to them. Additionally, they learned that you need strong legs, balance and great eye-foot coordination for skiing and hockey. They learned about the muscles they need to use when bobsledding, which is different from skiing. The teachers taught the students about how eating healthy and exercising daily will help them grow into strong adults providing them the opportunity to one day complete in the Olympics if they are inspired to do so.

The importance of good sportsmanship
Second, the students learned about sportsmanship. Here at Concordia, we teach the students about wisdom, patience, kindness, humility, honesty, understanding, and compassion (among other character values) within our RSB (Reflective Spiritual Beings) curriculum. The students were able to share their own experiences in applying character values while competing in their version of the Olympics. They needed to share, take turns, wait, cheer on others, and support friends when they crossed the finish line last. And equally important was the need for the children to practice teamwork. It was important that they experienced the dependence they had on one another as they were "competing" in their "bobsleds." The kind and encouraging words our children shared with each other warmed our "winter Olympic" hearts.

An opportunity to learn about other countries
Lastly, discussing the 2022 Beijing Winter Olympics provided our teachers with the opportunity to teach the children about different countries with our prekindergarten students. The children were able to talk about "their" country and their awareness that not only are the Olympics international, but our school is too! It was a pleasure to listen to the children speak about the love they have for their native country and the pride in the fact that the Olympics are happening right here in China! The conversations were rich in language development, listening skill awareness, and vocabulary development. It provided everyone with an opportunity to learn more about each other and grow in appreciation and respect for friends.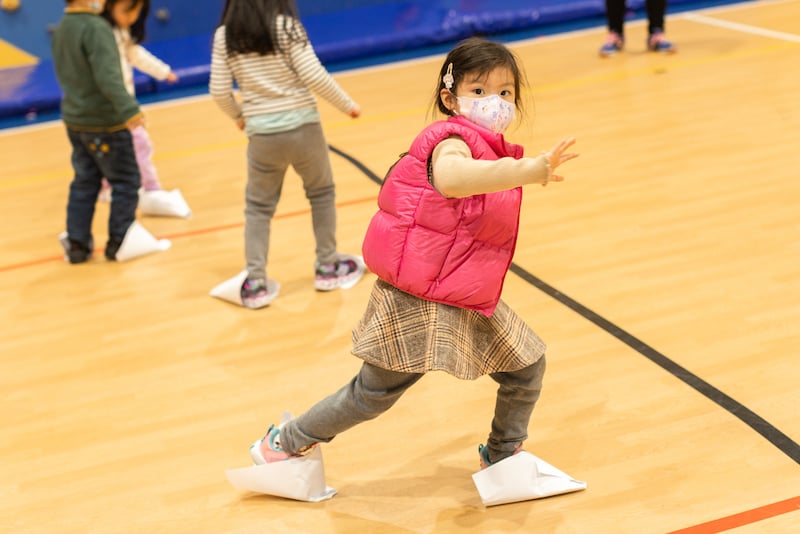 Concordia Early Childhood teachers and students enjoyed this special week celebrating the Winter Olympic theme. They experienced laughter and learning together. And as we watched them "complete" we were reminded of what a beautiful gift from God our Concordia students are to us all!