The Cicadas have focused on being respectful, responsible, and safe all year. So, when the Pre-K teachers discussed concerns regarding children's safety on the playground, all agreed that the children were essential members of the discussion.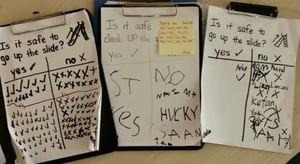 Teachers shared a video of children playing on Big Blue and asked children to analyze the play: what was safe and what wasn't. The Cicadas watched with critical eyes identifying both safe and unsafe behaviors. There were mixed feelings regarding some of the choices. Is it okay to climb up the slide? How many children could safely play on the platforms? Some children decided to research and survey their peers' opinions. Hugo had a grand, ambitious idea: "Let's make a Safety Team!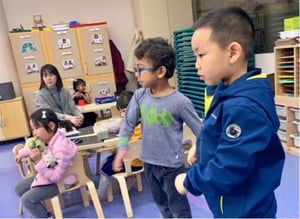 Hugo's idea sparked the interest of other Cicadas. Ahaan quickly jumped on board, and the two boys began making plans.
One child from each class would make the team each day.
"We will meet on Tuesday after nap time," Ahaan suggested.
Hugo added, "We need hats and a (drew a 'badge' on his chest with his fingers)."
Both agreed to share their developing idea with the other Pre-K classes and to invite each class to create a Safety Team to help promote safe play on the playground.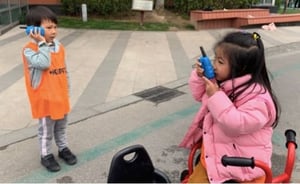 Monday, March 25th marked the inauguration of the first ever Pre-K Safety Team. One child from each class wore bright orange safety vests and took turns communicating among one another with walkie-talkies their locations and needs.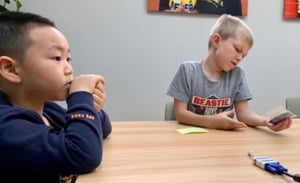 On Thursday, April 11, members of the team met in the EC Conference Room to reflect on the work of the Safety Team during its first two weeks:
"Kids are climbing good on the climbing wall." – Mia (Dragonfly)
"Only a few people are climbing up the slide." – Ahaan (Cicada)
"People aren't getting as cold as much, but there is still some fighting." – Hucky (Caterpillar)
All agreed that rules were needed and needed to be posted so people could see them when they were on the playground. Team members agreed to these rules and planned to prepare posters with illustrations for those who could not read yet:
Pretend fighting ONLY.
Before you slide, look and think, "Is it safe?"
NO kicking.
No more than four people in small spaces.
Bikes stay on the road and are NOT for hurting.
The word duty was used in the Cicada class recently to describe a person's responsibility. Hugo proudly connected his experience as a Safety Team captain stating, "I have duty . . . the Safety Team!"
Empowering children to be a part of the conversation and to solve problems that directly impact them acknowledges their potential, values their knowledge, and encourages them to actively own their learning. The development of the Pre-K Safety Team is an authentic example of the creative, dynamic power of children!