Concordia is pleased to announce this year's exceptional AP results. Our students' scores reflect a pattern of excellence that has become a tradition at Concordia.
In May 2023, 100% of our high schoolers enrolled in AP courses took their respective exams. Out of the 242 students who undertook 714 exams across 25 subjects, an impressive 92% passed with scores of 3, 4, or 5. Moreover, over 51% of the exams received a perfect score of 5.

AP Scholar Recognition
Our students have outdone themselves:
29 AP Scholars

20 AP Scholars with Honors

67 AP Scholars with Distinction

32 students were awarded the AP International Diploma.
Spotlight on Top Performers
Two students deserve special mention for their perfect AP scores: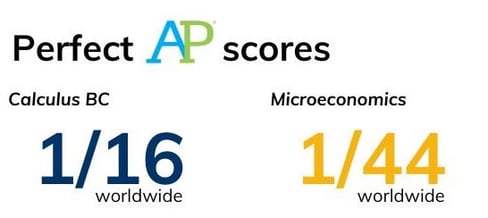 Hudson M. (Class of '24): Received a perfect score in Calculus BC, standing out as 1 of only 16 students worldwide.



Jeffery T. (Class of '23): Achieved perfection in Microeconomics, ranking him among 44 top performers globally.

Our students demonstrated excellence in many subjects, including Calculus BC (mean score 4.76), Biology (4.68), Chemistry (4.52), English Literature & Composition (4.53), Human Geography (4.7), to name a few.
We also see a high percentage of 5's in the following subjects.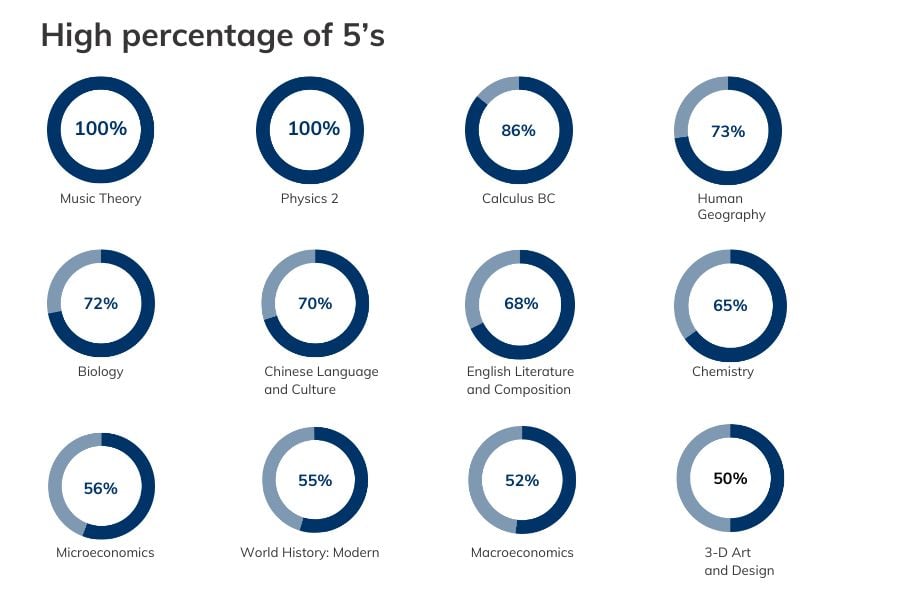 AP Chemistry and Biology
We talked to High School Science teachers Mr. Brad Beckman and Mr. David Doyle, who shared with us some exciting news about AP Chemistry and AP Biology exams this year, where ALL students earned "passing" scores.
For AP Chemistry, nearly twice as many students earned highest score (5) as all other scores combined. The mean score (4.52) hit a record high since 2016 (Highest in the past was 4.36, and 2022 no test due to COVID).
In terms of AP Biology, the school average score was impressive 4.68 this year, which was significantly higher than the global average of 3.04. A total of 37 students took the AP Biology exam with 35 achieving a 4 or a 5 (94%). Twenty-seven of the 37 students (73%) achieved the maximum score of 5 on the exam.
So, what are the "secrets" of earning a high score in AP exams?
Earning a solid score on the AP Chemistry Exam requires focused effort throughout the course. I try to "over prepare" students for the AP Exam each year. My hope is that students' experiences in the classroom and laboratory are broader and deeper than the College Board expectations. Additionally, I see refinement answers to Free Response Questions as the greatest opportunity to help students prepare for the AP Chemistry Exam.
—Mr. Brad Beckman, High School Science Teacher


In my opinion the secret to reaching your potential in AP Biology is to have a continuous two-way dialogue with your teacher. Build a strong relationship with them and always allow yourself to grow with their mentorship, whether you are struggling or excelling in the subject. AP teachers love their subjects, allow their enthusiasm to be infectious and you too will love learning at an advanced level.
 —Mr. David Doyle, High School Science Teacher
AP scores are not the sole measure of our success as a school; rather, they reflect the nurturing environment in which our students' exceptional mathematical thinking skills develop. Moreover, outstanding individual accomplishments, like Hudson M.'s and Jeffery T.'s  perfect scores, underscore a story of comprehensive academic excellence, nurtured by parents and an expert educational team.

AP at Concordia
With a commitment to fostering the academic passions of our high school students, we continue to provide a diverse range of AP courses.
For the 2023-24 school year, Concordia High School will offer 25 AP courses and exams. Grade guidelines are as follows:
9th and 10th Graders: Up to 1 AP class

11th Graders: Up to 3 AP courses

12th Graders: Up to 4 AP courses
In addition to our strong AP offerings, Concordia's high school Applied Learning (AL) courses provide a well-rounded, rigorous curriculum for our students. When combined, AP and AL courses not only prepare them for college but also for real-world applications. This integrated approach ensures that our students are not just academically proficient but also well-equipped with practical skills, offering a holistic educational experience that is both challenging and relevant.