At the end of fall semester, the first 2020-2021 Phoenix Post came out. It is the very first edition of Concordia's new High School student newspaper featuring relevant articles and current events happening at the school.
Originally published through Citizen C., the magazine turned newspaper is a product of the high school Applied Journalism class, under the mentorship of Mr. Brian Lavender. So today, we're having Mr. Lavender give us a closer look at AL Journalism as well as the Phoenix Post.
Applied Journalism at Concordia
In this high school applied learning course, students develop all sorts of skills required by in-depth reporting throughout the course, namely planning, interviewing, writing and editing.
The class offers opportunities for students to participate in real-world journalism that make a difference. For example, when COVID-19 dominated our world last spring, AL Journalism students realigned their work to produce features involving frontline workers, mental health and other issues of importance to the wider Concordia community.
More recently, they have focused on the evolution of table tennis at Concordia, the looming issue of military service for some of our students and connections between longtime staff and students.
"In a media-rich world, the values of creativity, quality, integrity and resilience are central to effective journalism."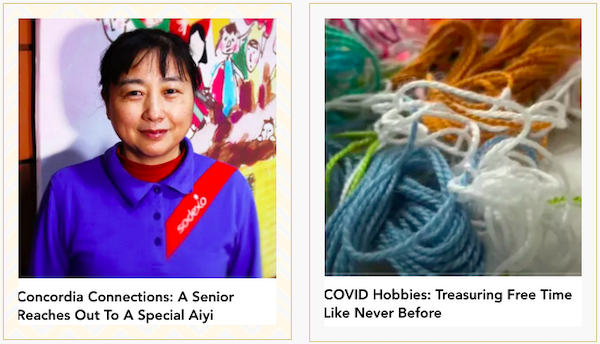 When it comes to the Phoenix Post, Mr. Lavender shares,
"It is an extension of the learning that Katherine and Sophie did in AL Journalism. They've taken their passion to the next level by leading a team of others to produce generative journalism that brings benefit to their audience.
This publication embodies the objectives of our Applied Learning courses - specifically skill, purpose and initiative. Without any grades attached, it is clear that the Phoenix Post is about serving the greater good. I'm really proud of these students for prioritizing this project in their busy lives."
Thanks to the Concordia Fund, printed copies of the Phoenix Post will printed and made available on campus for the school community.