Swords have long held sway within the annals of human history and culture. From King Arthur's Excalibur to famous Chinese swords such as Cheng Ying: (承影) from the Shang Dynasty Era and Chi Xiao: (赤霄) from the Han Dynasty considered to be a representation of imperial sovereignty.
For two Grade 7 students, admirers of battle themed anime, the imagery of swords took on a larger than life meaning when they entered the middle school makerspace at Concordia for their maker class.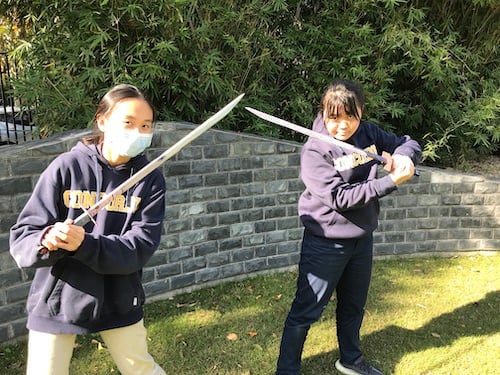 Equal parts desire and dedication
Serena W. began her maker experience with a proposal to create a katana, a special kind of Japanese sword with a curved blade longer than 60cm. As the Maker Design teacher, I was initially hesitant to allow a student to recreate a weapon due to past experiences, but eventually relented because of the passion I saw in her eyes as she discussed her proposal with me at length. This was not just an ordinary project for Serena. In her words, "I always liked ancient weapons like swords and bows." At home, she even created paper versions using origami. This was her chance to design and create a stronger one from wood.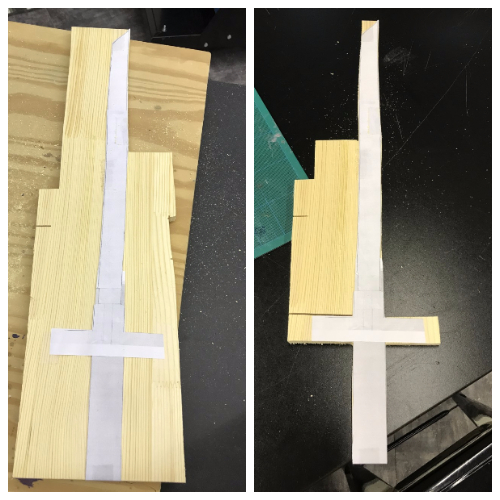 The process of creating the swords was iterative. When Serena's first prototype broke in half due to the quality of the wood, we decided to use a template to achieve a better cut. In Serena's words, "I have become more able to persist. Before this maker design class, when things became hard, I would just turn away and not attempt to work through the problem. That has all changed." Over the course of a few weeks Serena even spent her recess time working on the sword in order to fashion it to her expectations. Her persistence paid dividends and she ended up with a sword worthy of its maker.
One good design deserves another
Inspired by her success with the first sword, she decided to attempt a new design and her friend, Grace L., joined in the creative endeavor. The biggest challenge they faced was to decide on a design to build. Grace and Serena also had to half a piece of wood they found in the maker space in order to craft their swords. This was risky as the wood could have split at any moment. After a painstakingly slow process of sanding the sword and fabricating the hand guard they finally succeeded. There were two very happy anime sword enthusiasts in the maker class that day.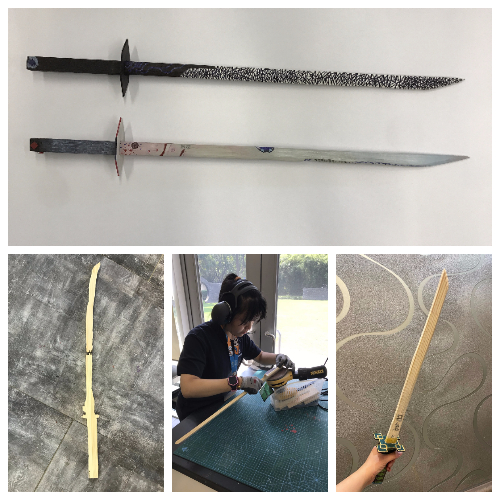 Serena stated that Maker Design teaches essential skills that can be applied to other subject areas and are also useful outside of school. "After taking maker design, I changed my way of thinking when encountering a problem", Grace added, "for example when trying to solve a problem in science, I used to think of the best solution I could think of and just got it done; now I reflect and review my ideas and try to generate more options."
Both Serena and Grace forged new life skills while exploring their passion and creativity within a maker environment. May their swords band together with those of more historical fame while their skills serve as guides into a successful future.