If it's a clear day, whether you are flying into either of Shanghai's Pudong or Hongqiao International airports, you will be able to see the scale of development of the Yangtze River Delta that extends from the shore of the Pacific Ocean inward as far as the eye can see. Land is put to use without exception in this part of the world. From the ground much of what is happening in terms of development is hidden behind tree lines and fences except when it involves high-rise construction cranes.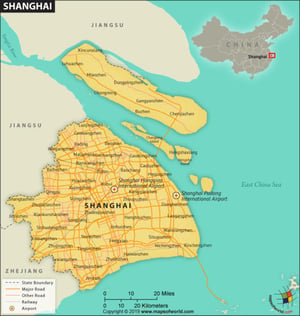 Shanghai shares the East China Sea with Japan and is roughly half the distance between Hong Kong and Beijing along the same latitude as San Diego and Jerusalem.
Chongming Island is the northern most district of the city and is the world's largest alluvial island. Chongming Island is often referred to by local Shanghainese as the breadbasket of Shanghai. For centuries, the fertile rice fields of the island have supplied Shanghai with food. The terrain of Chongming is as flat as gravity will allow – as is the entire floodplain that Shanghai sits on. In fact, the most relief in the entire area is Sheshan Hill at 100m elevation.
A few hours drive away in Hangzhou is Moganshan at 719 meters elevation. Being the closest refuge from the stifling humidity of Shanghai's summer heat, the mountain has been a favorite retreat of expats for more than a century.