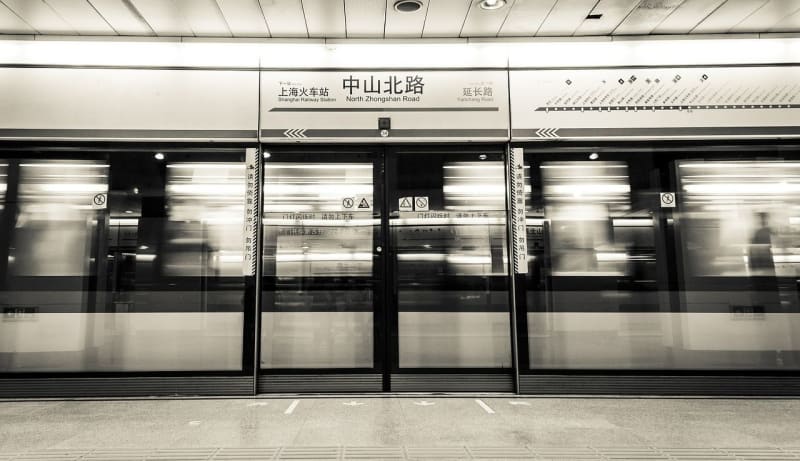 Once you have your bearings, how you get around Shanghai will depend much on whether or not you have a family driver, which part of the city you live in and where you are traveling.
Under certain circumstances you are going to need to use the Metro. Rush hour traffic in downtown Puxi is intense everyday. Of course, Fridays are particularly busy and for the most part, driving anywhere will take twice the time it does normally. While the Metro is crowded at these times as well, it will get you to your destination on time.
For the times when traffic is functionally moving, it used to be that taxis were the most convenient way to get around the city. The problem was that calling the taxi company did not guarantee you would get a taxi. It might take you 30 minutes on hold to talk to an operator during normal rush hour traffic and then a driver has to accept your call. Depending on your neighborhood, taking to the streets to hail a taxi often takes the same amount of time even if you engage in tactics to snag one before the others around you do the same. If you needed to rely on taxis to get to work on a daily basis, then that was a problem.
When Uber disrupted the taxi industry in the US a few years ago, everyone knew it was going to spread like wildfire across the globe and it did. In China, Uber faced Apple-backed Didi Cuxing who succeeded in merging with Uber. A year after the merger, Didi released an English version of its app alongside real time support for facilitating communication between riders and drivers who don't speak English.
For expats in Shanghai the release of the English version of DiDi's ride-hailing app is nothing short of revolutionary. Having the option to pay a premium with driver tips in order to secure a ride in rush hour or inclement weather is nothing short of life-changing for many expats – particularly those without family drivers.

Other ways to get around Shanghai
METRO
Shanghai's metro is now the longest in the world and its still growing and connecting to the metro systems of nearby cities in the coming years. As of 2018, there are 11 lines and 277 stations open, with more scheduled to be completed by 2020. The system itself is very safe and on time normally. When you go to the station, purchase a stored-value transport card (jiaotong ka) from one of the kiosks for 100RMB that includes a refundable 30RMB deposit. There are maps in every station and signage in English where it needs to be. Most lines initiate their final runs at 10pm though on special occasions they may run later.
BUSES
Shanghai has more than 1,000 bus lines that stretch to every corner of the city. For most expats, busses are not necessary unless they travel to an area not served by the metro; though in those cases, even if taxis were not available, DiDi would solve the issue.
BICYCLES
For the most part, cycling in Shanghai will be limited to your local neighborhood and each neighborhood is different with regard to bicycles. In areas such as Jinqiao, streets are wide and safe and many expats use their bicycles to get around the neighborhood. Jinqiao is a bit spread out for walking depending on where you live so cycling is a good option.
In downtown Puxi, bicycles and scooters are banned from many streets so cycling is not a realistic option for daily transportation outside of your local area. There is a whole industry surrounding restoring classic bicycles from old Shanghai, though you would be wise to buy an excellent lock as these classic rides are also a favorite among thieves.
Improvements in technology have made e-bikes and electric scooters an attractive option, particularly if you live in a villa and can plug them in outside. Even if you live in an apartment, most e-bikes will fit on an elevator for storage and charging on your balcony. Both e-bikes and electric scooters are regulated in Shanghai and you will need to register your purchase with the police as well. You may be disappointed to hear that they are limited to 20 kilometers per hour which is about the pace of a brisk bicycle ride.
Pudong has some good bicycle commuter lanes that will be an attractive option to some – particularly when the weather is nice. Though helmets are rare among locals, it is strongly recommended you invest and use them when you are on the road. There is a pecking order to traffic in Shanghai and bicycles are pretty much expected to yield to cars even if it shouldn't be the case.
WALKING
Though massive, Shanghai's main neighborhoods are very walkable and in fact it is the preferred way to explore areas like Huai Hai and Nanjing Road, the Bund and People's Square. There are walking tours you can join that highlight architectural sites and tourist attractions. Though for areas like Tianzifang in the French Concession and Jing'an Villas in Jing'an, just wandering around the area is fascinating.
The sidewalks in Shanghai are well-maintained and it is advisable that you use them. Drivers do not afford pedestrians the same respect that they do in most western countries. Taxi drivers can be especially aggressive and will speed up to frighten you into not crossing the street until they pass even if you have the right of way at an uncontrolled crosswalk.
TAXIS
Daytime flagfall in Shanghai is 14 RMB and 2.4 RMB for each additional kilometer. Though expensive for China, taxis in Shanghai are comparatively very cheap to other parts of the world. Tipping in taxis is not expected and drivers will issue an invoice (fa piao) if you need to get reimbursed. The easiest way to pay is with WeChat Pay or your Jiaotong Ka stored value card.
DRIVING
Given the low cost of hiring a private driver, most expats choose not to drive while in China, that said, if you are prepared to study for and pass the exam, purchasing or leasing a vehicle and driving yourself may be a source of continuity as it may have been a big part of your life in the past. Depending on where you live, parking can be an issue, though this is not the case for people who live in villas where parking is included.
The popularity of DiDi has made driving even more irrelevant in Shanghai as it is essentially a driver time-sharing service.
TRAINS
Shanghai's Hongqiao Transportation Hub is the largest in the world and it's the epicenter of the world's longest network of high speed trains (HSR). With the fastest trains reaching speeds of 250 miles or 350 kilometers per hour, a trip to Beijing now only take 4 hours 28 minutes. Though the line connecting Hong Kong is not open yet, travel times are expected to be around 7 hours.