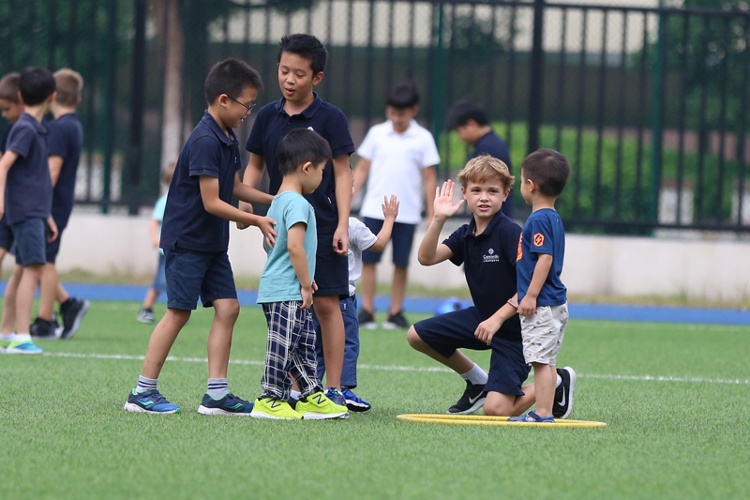 Now more than ever, a holistic approach to education that focuses not only on the academic growth of your child but also their emotional and spiritual growth is a valuable trait to look for in your search for the right international school for your child.
With multiple studies showcasing the benefits of incorporating values and character development and service learning opportunities in schools, it's an important factor that should not be overlooked.
At Concordia Shanghai, we believe in the many benefits of the two valuable approaches to education by providing a range of opportunities for students to build self-awareness, good character, and a heart for kindness and service to others. Our students are able to utilize the invaluable life skills they adopt throughout their educational journey. Both educational practices have been found to provide students with an almost endless list of benefits, be they emotional, social or personal in nature.
Benefits of values-based and service learning in school
There are many benefits of both values-based learning and service leadership in a school setting, and as a school with we feel as though it is our responsibility as educators to include this practice in everything we do at Concordia.
"Spiritual learning is about believing that our responsibility as educators is more than just passing on knowledge to students, but is shaping them as people," said Christopher Mizel, Senior Director of Faculty Care and Identity at Concordia Shanghai. "As a school that has faith foundations we believe that the way spirituality can shape an individual is a crucial part of their life."
According to Mizel, values-based learning helps children connect what they are learning and experiencing to a global mindset. By doing so, students develop and improve on a number of valuable social and emotional skills including:
Improved sense of self awareness
Higher self-mastery skills
Gain a universal awareness
Greater social presence
And many more!
"Spiritual learning can act as a guide for young people in a way that benefits them as their identity continues to form," said Mizel.
At Concordia, values-based education goes hand in hand with service leadership, as both methodologies take students out of their deep academic studies for a moment to contemplate their place in our world, our shared experiences, and their role in helping others.
"They are directly connected because we believe that service leadership is born out of spiritual learning. Teaching young people how to be servant leaders is only valuable if they understand the why of what they're doing, why they're serving, why they should be motivated to love other people," said Mizel.
According to LeeAnne Lavender, Service Learning Coach at Concordia Shanghai, service learning helps equip our students to develop and improve the skills that will help them take what they have learned and apply it in real world ways that have a positive impact on their community.
"Service leadership in an educational context is so key in terms of modeling what it means to care about the planet, to serve other people, and to try and serve the world around us," said Lavender.
Many studies have researched the impacts of service learning in a school setting and have found a positive correlation in the following attributes:
Improved social competence
Improved emotional regulation skills, especially in younger children
Greater self-confidence
Heightened care for others
Greater sense of responsibility
Increased interpersonal skills
A collaborative mindset
Improved communication skills
And more!
While service leadership opportunities are fundamental for developing the whole child in a holistic way, there is also the added benefit that the same opportunities look great to future college admissions boards or even employers, because it indicates to them that your child has developed vital life skills often associated with service leadership.
One study found a relationship between spiritual and emotional intelligence and successful entrepreneurship, as researchers found both skill sets enabled entrepreneurs to better understand their employees and customers alike, thus fostering a conducive work environment and a successful business venture.
What does values-based education and service learning look like at Concordia?
An important thing to remember when discussing spirituality at Concordia is that everyone is at a different stage of their personal spiritual journey, and there's nothing wrong with that.
"Our program is meant to be very open and very much about the students coming to a greater understanding of what questions they have and what they think it means to be a reflective spiritual being, and it's okay that everyone is in a different spot on that journey," said Lavender. "It's more of an exploration than it is about any kind of set of answers or frames to put on the world."
If character and personal growth is the intended goal, then service leadership projects are evidence of these philosophies being put into practice. Lavender runs a year-long class at Concordia for senior students to plan, develop, and implement a service project in our Concordia Shanghai community. She added that this course is a sustained service learning experience that pushes home the importance of spiritual and service learning and results in exciting and innovative projects.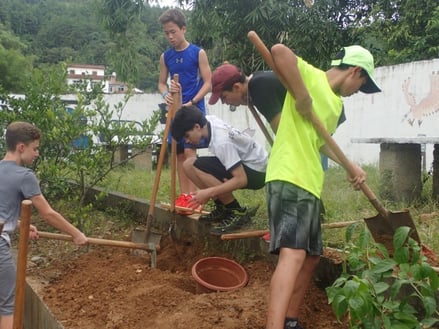 Are you interested in learning more about service leadership opportunities your child can take part in at Concordia? Click here to read about current Concordia student service leadership projects and their impact on our community.
For Mizel and Lavender, it is witnessing the culmination of our community's combined efforts that not only reinforces the benefits of values-based learning and service leadership that brings them the most pride.
"Often when you're trying to teach someone about personal development or service, often you're simply the one that's at the beginning of their journey and it'll bear fruit some other time in their life when you're not connected with them, and so you don't always get to see the whole transformation process of an individual," said Mizel. "But sometimes you're lucky enough to be there and it makes you proud, it makes you believe even more in the sort of things we can do."
Values-based learning and service leadership opportunities are just one way that our students excel at Concordia. Are you interested in diving deeper into Concordia students' accomplishments?