A decade ago, when two of our 5th graders, Ian Olson and Sam Brantingham, heard that there were no playgrounds in Liberia after their civil war, their response wasn't just to feel grateful for the comfortable life they had, but it prompted them to take action.
Supported by an amazing group of their family friends, members of the Concordia community, and donors from around the world, they built a playground in Liberia.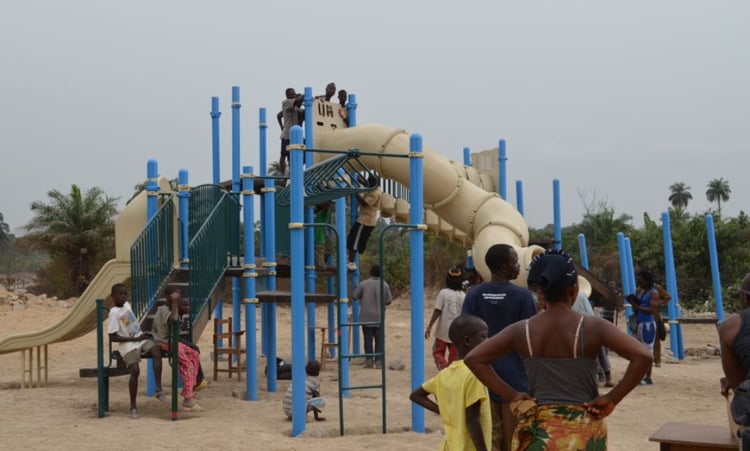 Ian and Sam (right) on their first playground in Liberia
"Concordia supported us by giving us a platform to spread awareness about our project. The school community donated a large portion of the funds for the project and encouraged us along the journey," recalls Sam, who graduated from Concordia in 2020 and is currently majoring in International Business at Seattle Pacific University.
Service-Centered DNA in Action
As he puts it, Concordia has always been a very service-centered institution and has fostered an environment where service is in its "DNA". So, back in 2013, when 10-year-old Ian thought of the idea of the playground project and presented it to the Concordia community with Sam, they were supported by Concordia teachers who said "why not!" when other adults said it couldn't happen.
Since 2013, many things have happened with Ian's and Sam's families to provide services for Liberia in the areas of health, education and playgrounds!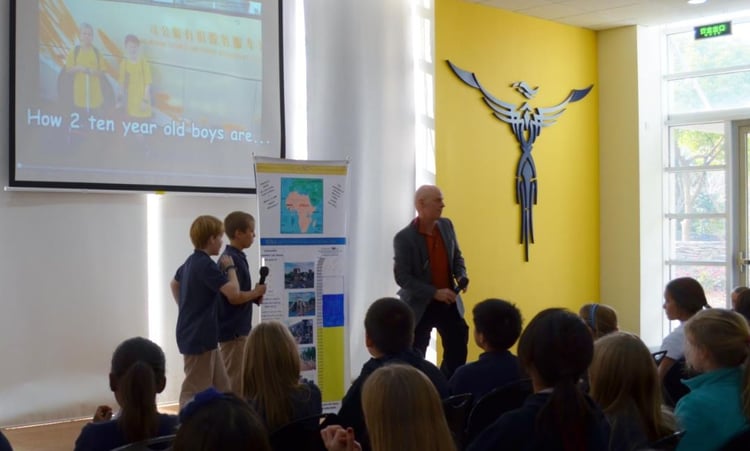 10-year-old Ian and Sam present their project at Concordia
While helping the Liberian kids out, Sam started to develop a growing passion for service during his high school career. Each year of high school, being part of the TrIBES trips was one of his Concordia fondest memories. "Honestly, the TrIBES trips were an avenue through which I was able to pursue Service to those less fortunate than myself," says Sam.
Each fall semester (before Covid-19), high school students at Concordia headed to villages and cities across China as part of the Transforming Individuals by Education and Service Program (TrIBES).  During the trips, high school students experienced new parts of China in an immersive and unique way while also making new friends at all grade levels and expanding their communication and leadership skills, self-reliance and compassion for others. 
"Through Concordia's various partnerships with non-profits and service organizations, I was exposed to how the Concordia community was sacrificing their time and resources to help others," says Sam.
The Power of Boldness 
Therefore, with a heart for service, what started as two young boys wanting to put one playground in Liberia, has led to four playgrounds, supporting two clinics, and expanding a school next to the first playground! Ian and Sam also took part in an initiative to donate backpacks and school supplies to all the students attending this school. Their dedication and commitment to making a positive impact on the community are truly inspiring.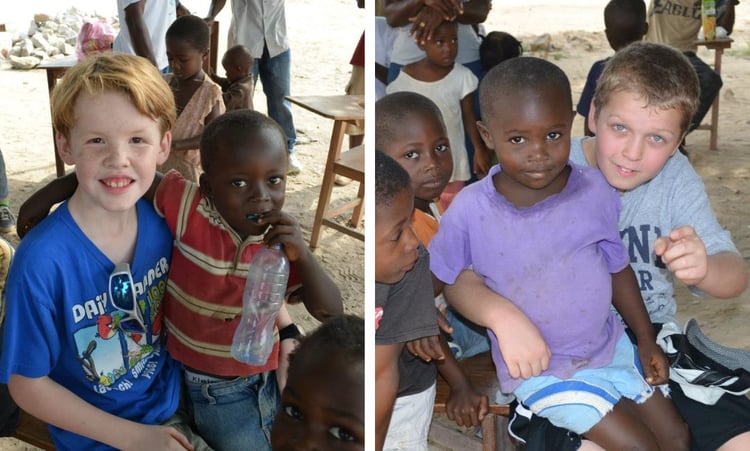 Sam and Ian with kids in Margibi County, Liberia 
"I know both Ian and I feel very proud of the work that has been done in Liberia," says Sam, when he looks back on the past ten years of their service journey. "However, more important than feeling a sense of accomplishment, we feel tremendous gratitude. Gratitude to the people who have supported us on this journey, and gratitude to those who have kept the project moving forward to serve the Liberian community."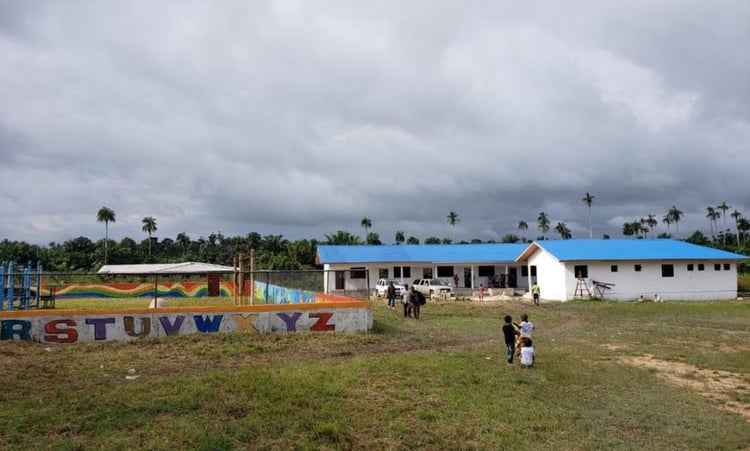 The school next to Ian and Sam's Playground #1 was opened in 2018. 
Sam also thanks his friend Ian and his parents for being an inspiration for pursuing service. He continues, "Ian was bold enough to dream big, and not let anyone crush his dreams. Because of his boldness, service has continued to be an important part of my life… My parents have shown me through their generous actions how a life of service to others is actually the most rewarding way to live."
If you want to make a difference in the lives of others, don't be afraid to be bold and take action. "I never thought that two ten-year-old boys would ever be able to successfully build a playground in a foreign country. But when you dare to believe for a better future for others, crazy things can happen," adds Sam.