Concordia International School Shanghai Kindergarten teachers asked their students to use their imagination and practice their reading skills and reading comprehension in a "reading playdate" activity.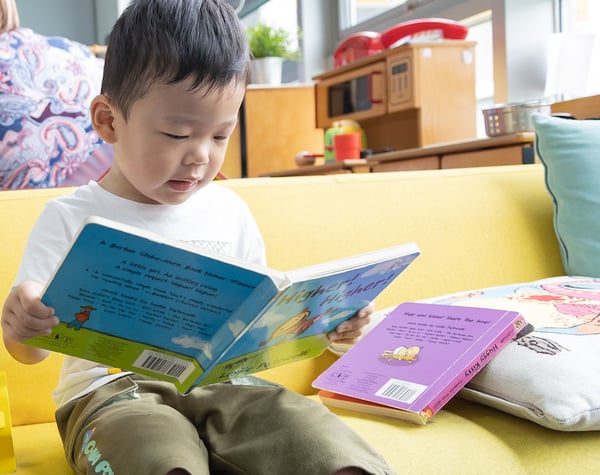 The activity was designed by the team to encourage the children to demonstrate their English reading comprehension. They were encouraged to select a non-fiction text of their interest. The reading activity prompted the students to take the knowledge from the book they read and demonstrate their comprehension in a fun way - a "reading playdate." They were able to select their reading mates (family or a stuffed animal) and reenact or teach what they learned from their comprehension of the non-fiction book they read.
Although many students shared their creative and entertaining videos in the Distance Learning Classroom, two students stood out as delightfully creative and demonstrated their successful comprehension of reading English text. These two students also are a wonderful demonstration of what the Early Childhood Division values greatly - parent partnership and active engagement.
A fun way to learn about the brain
Kindergartener Avery Shen, along with her mother, Ms. Yuan, present a wonderfully creative dialogue using handmade props demonstrating the process the brain engages in when it receives stimuli from neurons. They cleverly portrayed the communications of how the sensory neurons carry messages to the brain and then act upon the stimulus - in this case - eat the strawberry cupcake. Her unique and entertaining video prompted this author to look further into how neurons work for our brain and body. Maybe it will prompt you as well.


How to interact with reading a book
Kindergartener Rachel Wei, along with the filming help of her parent, posted her video of a shared reading of a non-fiction book about Komodo Dragons. Here is a snip of her video. Again, this creative and entertaining video not only prompted my curiosity of learning more about a Komodo Dragon, but also brought the thought that perhaps we have a future teacher right here at Concordia International School Shanghai. Again, this video shows the dedication of both a student and their parent.

These videos demonstrate effective effort in reading comprehension, transferring acquired knowledge from a non-fiction text with advanced English vocabulary, and practicing English in a meaningful and creative way. Congratulations students for going the extra mile.

During the Distance Learning weeks ahead, Concordia International School Shanghai encourages all parents to participate in SeeSaw and Zoom meetings with active engagement, as these featured families exemplify. We know and appreciate that all of you are doing your best to show your support to your children.