Following the success of the ECxHS Zine Project (a collaborative art project between early childhood and high school students), the news of EC art specialist, Stephanie Barenz-Wiegman's, zines spread to the middle school, where Weigman was asked to inform grade seven students how to create their own zines for an upcoming social justice project. Below, she recounts her involvement in this new zine project.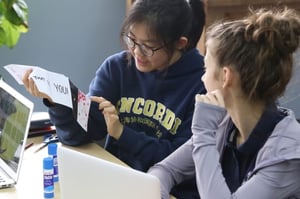 Zines have a rich history in social justice. Some claim that Martin Luther was the first zinester when he nailed the 95 Theses on Castle Church, other attribute it to Benjamin Franklin. We also see zine-like pamphlets throughout other social movements like the abolition of slavery, civil rights, and feminism. Zines were often adopted by marginalized groups in society, and were a way to educate their audience about their points of view and perspectives.
As I presented to the MS students, I showed them examples of the Kindergarteners' and high schoolers' zines as away of demonstrating how any age group could have access to this medium.
As a result of this presentation, grade seven humanities teacher Mr. De Koker incorporated zine-making into his students' final project and presentation, opting to have students create zines for their social justice topic instead of the typical powerpoint presentation. This approach would give the students something tactile to work with, and require them to think through how they would communicate their topic in a very different way in order to reach their audience.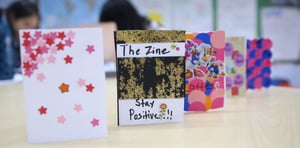 Here's what Mr. DeKoker had to say about the intention behind the social justice zine project:
"I hope that my students will begin to realize that they have a "voice" and that their "voice" can be used to make a difference in this world. Through this unit and the different components of it, they have had an opportunity to experience a small variety of media avenues through which they can share and make an audience aware of the issues surrounding various justice-related topics."
As we wrapped up these collaborations and presentations on zine-making, it was encouraging to see all of the learning opportunities that came out of it. The benefits of such collaboration not only include social and emotional learning but also help to promote a culture of trust interaction and positive risk-taking. I look forward to including more of these learning experiences and challenges for our students.