Throughout this semester and last, our EC Mandarin teachers have introduced our students and teachers to some fun and educational activities that have had them learning more about Chinese language and culture and practicing gratitude. Here are a few examples.
Kindergarten
This year Kindergarten Heritage Mandarin students have been learning about important life lesson that are found in an ancient Chinese poetry.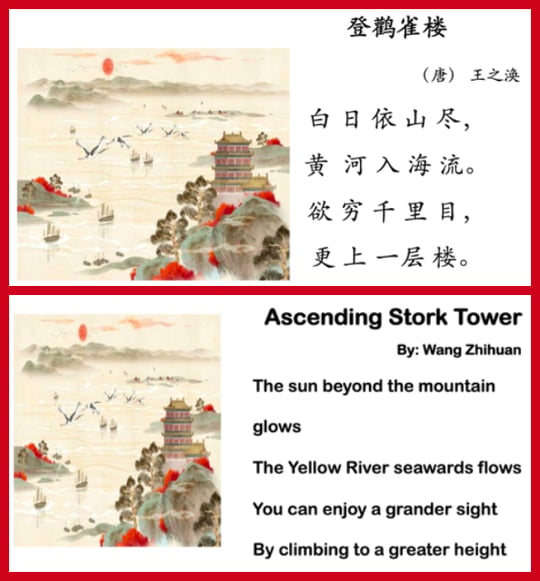 They heard a poem from the ancient Tang Dynasty called "Ascending Stork Tower," written by Wang ZhiHuan.
After hearing the poem, the children talked a bit about what its message. They learned that the line, "You can enjoy a great sight by climbing to a greater height," means if you work hard, you can have to a brighter future.
诗歌想要传达的深意: 想看得更远,看到目力所能达到的地方, 唯一的办法就是要站得更高些。
Pre-Kindergarten
Prekindergarten students are exploring the legend of Nian and traditions of holidays and celebrations, in Mandarin class. Students love singing songs and listening to stories about Chinese culture.
Preschool
Preschool has been actively engaged in learning about the meaning of thankfulness. The Mandarin teacher has been co-teaching with the homeroom teacher, Mr. Holbery, during these activities. This generates meaningful in-dept learning and a richer experience for students.
The activities and concepts were studied for several weeks. The children wanted to show their thankfulness to the helpers in their community by sharing the vegetables they have grown. Many learnings were part of this endeavor, such as what plants need to grow, what is a healthy balanced diet and the meaning of being thankful.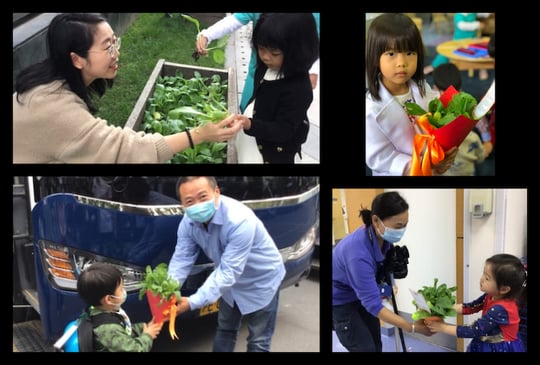 Our preschool Panda class see many adults every day that show love and care. The children wanted to show their love and thankfulness by giving out the vegetable, qing cai. The preschoolers raised the qing cai from seeds, and now they are ready to eat. The students compared their own growth, to the growth of the vegetables.
By sharing their home grown vegetables with the adults displays thankfulness. This is a great example of students being active citizens and working together for the good of all.