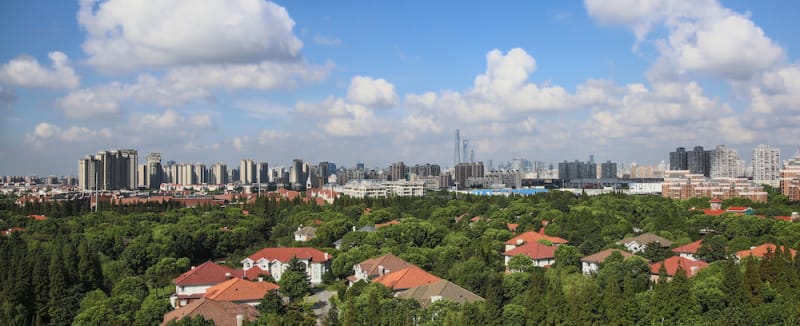 For 8-10 weeks a year, Shanghai has a lovely climate. Bracketing these two 4-5 week islands is a sweltering humid subtropical climate. When it is not steamy hot in the summer it is surprisingly chilly in the winter with snow occasionally blanketing the city if only briefly. The hottest months of the year are July and August while the coldest are January and February. Local regulations limit public spaces to temperatures no lower than 26°C (78°F) in the summer so indoors is going to feel the same the whole summer. In winter, indoor temperatures for public spaces is limited to 20°C (68°F).
It is really the humidity that makes the climate in Shanghai challenging as it makes 32°C (90°) feel like 40°C (104°F) in the summer and the winter winds carry a chill that bites deep. Most expats choose to leave Shanghai during the hottest months of the summer, returning in late August for the start of the school year and suffering through September to October when the weather breaks and the beautiful weather begins.
Structures in Shanghai are not insulated well generally and most windows are single pane. Depending on the age of your building, your villa or apartment may be drafty in the winter and may be expensive to cool in the summer.
Preparing to move to Shanghai from a clothes perspective means preparing for 4 seasons - even though the coldest days of the year when you need that parka could be counted on one hand. If you are coming from a climate where near zero clothing is not required so you don't own any, you can purchase this all from Shanghai at a fraction of the cost. Big box stores like Decathalon have good quality winter clothing at a reasonable price or for the more intrepid you can brave the clothing markets of Chipu Road on the Puxi side of the river. With a little assistance, you can buy it all on Tao Bao (China's Ebay) and have it delivered right to your door.