Concordia Shanghai seniors are receiving offers from their best-fit colleges and universities worldwide. But perhaps what's most exciting is that our students will be enrolling in schools and programs that fit their academic and future career goals, propelling them even further down the road on their way to life success.
In this installment of our annual "Road to College" series, we'll feature a number of seniors who'll be matriculating to schools that offer renowned programs and courses of study. For example, we have students accepted into some of the best schools in the U.S. for economics, entrepreneurship, and business and finance, as well as universities offering acclaimed programs in STEM, and those offering unique and highly specialized majors. It is wonderful to see our students well-prepared as Active Global Citizens, continuing to pursue their passions at their best-fit universities.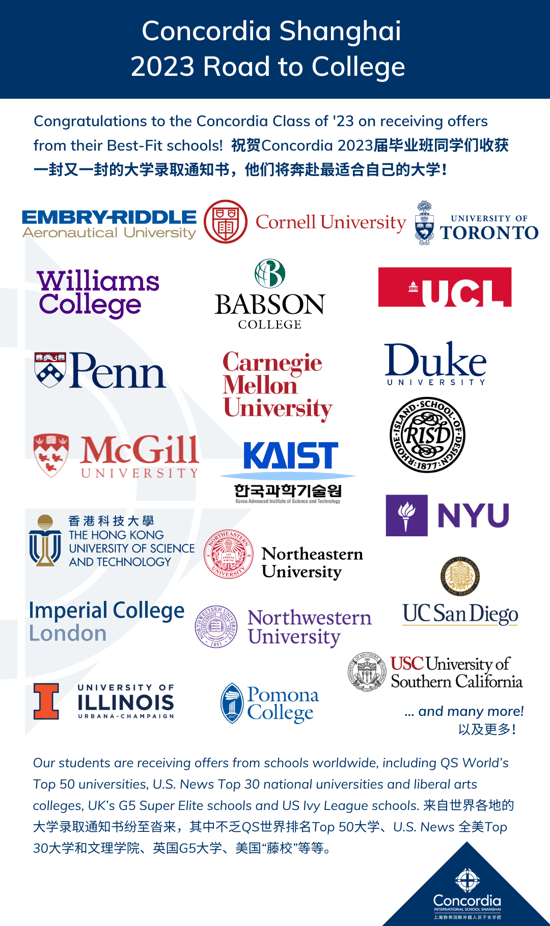 Listed in alphabetical order by university name are some of our seniors' university matriculation results and their intended major(s):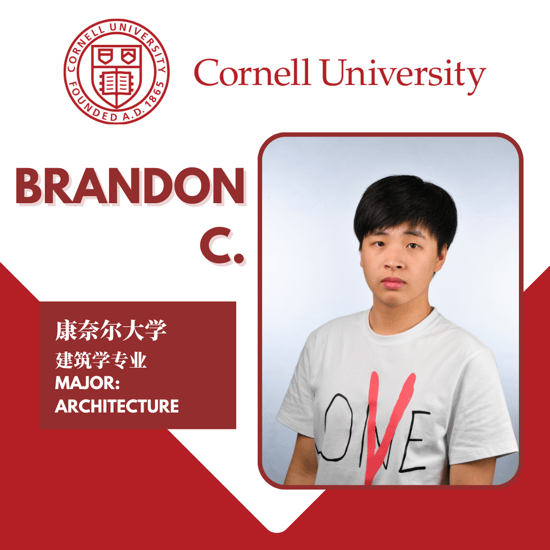 I was particularly drawn to Cornell's community. Speaking with current Cornell students and teachers made me realize that I was with people of my own kind – warm, creative, and artistic in their own way. To say the least, I was where I belong. I know that no community will help me flourish quite like Cornell's would; I know that there is nowhere else I'd rather create the future.

—Brandon C.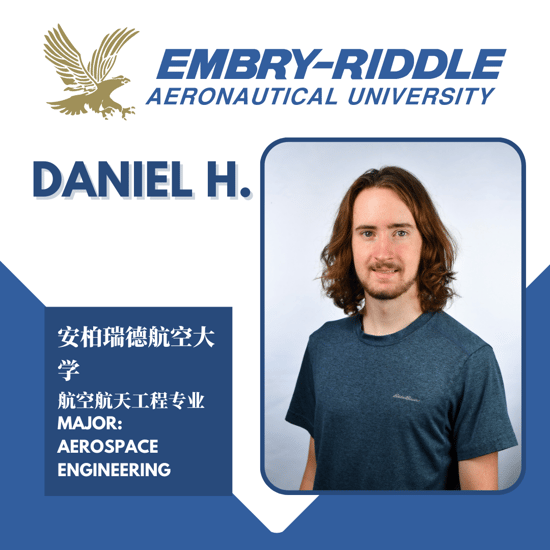 My Aerospace Engineering class with Dr. Tong helped me learn more specific aspects of this field, while VEX Robotics and Drone Club helped me engage with the practical applications of engineering and allowed hands-on learning and experiences.

—Daniel H.

At Concordia, we're proud to provide the STEM courses, tools and resources that help students like Daniel soar in the field of aerospace. It is also exciting to see that the flight training program offered to my Aerospace Engineering class goes right in line with Embry-Riddle's, which gives him a head start before he attends university. Our programs set students up for success.

—Dr. Peter Tong, High School teacher-Aerospace, Big Data, Math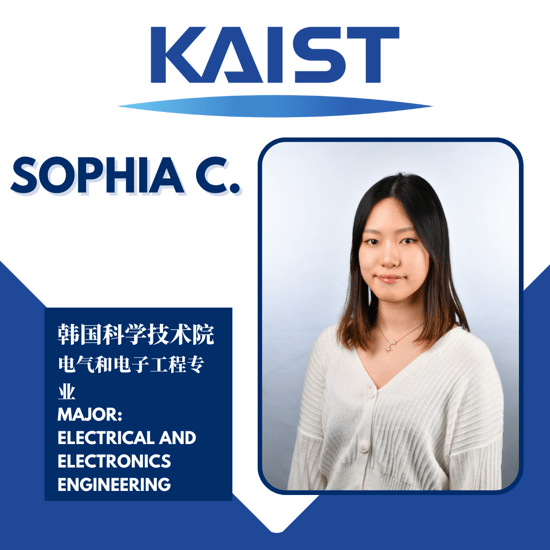 I was very excited to hear that Sophia is attending KAIST. She is in my AL Engineering class, and she has really taken aboard a lot of the key things about the subject. I also wrote her recommendation letter for KAIST. She's hardworking, respectable and positive, and has always been a key figure in group work both in class and as a member of the VEX Robotics club.

—Mr. Robert Knight, High School Mathematics teacher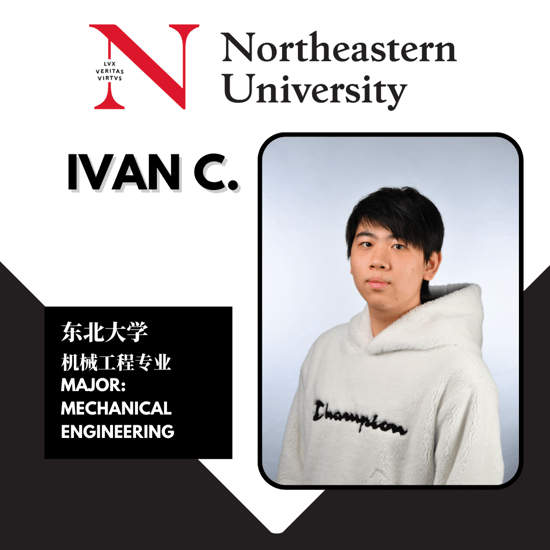 Upon taking courses such as physics, engineering, and mathematics at Concordia, I was immediately captivated by these fields' intricate and multifaceted nature. The complexities involved in these disciplines are vast and intriguing, and I found myself continuously drawn to the challenge of understanding and mastering them. Thus, Mechanical Engineering served as a perfect major.

—Ivan C.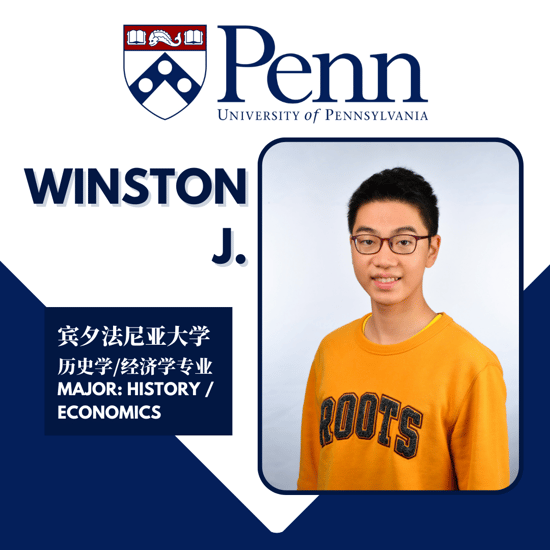 Concordia offers a great program in history: National History Day. In my sophomore and junior years, I dedicated tremendous effort to researching and putting together history documentaries, which won the China round and advanced me to the World Finals. For economics, I also competed in the National Economics Challenge (NEC) with my friends Jeffrey and Joe. The competition taught me to synthesize and demonstrate my economics knowledge through essays, presentations, and challenging problems. I believe taking advantage of the opportunities at school while creating my own was what helped me pursue my interests throughout high school.

—Winston J.
Choosing the Right School
Rather than relying simply on rankings or prestige, Concordia students know how to navigate the college search process with an open mind about the academic and social environment that they are looking for. Concordia's high school counselors emphasize the perspective that it's not about colleges choosing you, but actually, the other way around. Our students take the driver's seat in the college application process, gaining confidence in themselves as they choose schools that truly "fit" their personalities, interests, financial goals, and other personal or family considerations.
Click here to see the full list of university offers for the Class of 2023.

We want to send out a tremendous thank-you to the Concordia High School Student Council for compiling this year's list of acceptances. We are proud of you for acknowledging and celebrating the accomplishments of your fellow classmates! Stay tuned for more highlights from the Class of 2023 as we continue to share their journey on the road to college.