For this week's Road to College, we meet a student who has a passion for connecting with others to bring about positive change in the world, and her best-fit college choice reflects this spirit of connection and community building.


Meet...
Isabel Carter, Concordia student since 2008
Accepted to
Claremont McKenna College   
Intended field of study



Economics
How did you feel when you got the news that you were accepted?   
I was overwhelmingly excited. Claremont McKenna was my number one choice as it provided the exact college environment that I was looking for.
Do you know already which school you will attend, and can you tell us what makes it a good fit for you?
I applied and was admitted to Claremont McKenna College under Early Decision (binding).  As a student who loves to learn through making connections, Claremont McKenna's small class environment made me eager to apply early. I had the opportunity to get on campus multiple times before applying, and had the chance to sit in on a lecture. The interaction between the students and their professors, similar to those at Concordia, made me confident that Claremont McKenna would push me to achieve academic successes as well as provide opportunities and resources when needed. Furthermore, Claremont McKenna's tight-knit community fosters the creation of connections both in and outside the classroom in which I cannot wait to call home.
In your opinion, what made your college application stand out?  
I think what made my college application stand out was my passion for connecting with others to build stronger communities.
Is there a particular program or field of study you want to pursue at Claremont McKenna?    
Although I have not officially decided my field of study, I am currently interested in pursuing economics. Claremont McKenna's Kravis Lab for Social Impact and Kravis Leadership Institute are just two of the many institutes and programs that I am eager to get involved in. The school's resources span from athletic gyms to access to music rooms and groups where I can continue to play basketball as well as immerse myself further into music through various chamber orchestra groups. Lastly, by being a part of the Claremont Colleges Consortium (Claremont McKenna, Harvey Mudd, Pomona, Scripps, Pitzer), I have the opportunity to take classes at other Claremont colleges which allows me to expand my academic potential by making even stronger connections.
Which classes, programs, and/or faculty at Concordia helped support your interest in your planned field of study?   
In my junior year, I took inspiration from my economics, global development, and environmental science classes. Through the lenses of the courses listed above, I examined how environment, economics and social issues are interconnected.
Are there any other activities (clubs, teams, projects) that had a significant impact on you during your time at Concordia?
I signed up for Global Issues Network (GIN) the moment I entered high school, a club that I had been eyeing since middle school because it focused on tangible action and brought global issues to a local level. I was inspired when, as club leader, I saw the power to motivate students from different countries to have a shared burden to bring change and hope to their local community. 
In my community, I hosted clothing drives for the homeless and began developing sustainability initiatives such as reducing food waste and improving recycling systems. Specifically, I created food waste visuals for elementary students, spoke at middle school assemblies to teach about running GIN projects, and mentored sustainability projects of my peers in GIN.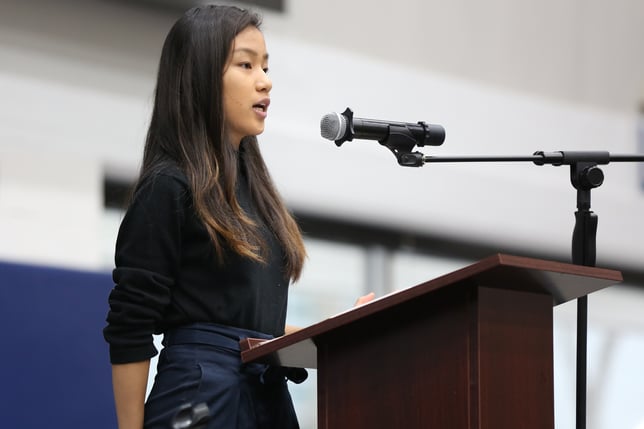 GIN also gave me the opportunity to make a difference beyond my school through the Global Ambassadors Program (GAP) in which I collaborated with other student leaders in Brazil, Egypt, and America. During two years, we wrote eight workbooks that guided students in designing their own community projects and created web-based resources to be used at conferences. I also learned from my fellow leaders, including the importance of diversity in opinions, facilitating instead of instructing, and how to propel a team forward. I applied these skills through creating four unique workshops which I led at different conferences across Shanghai.
As a leader I have been challenged to be more creative, for instance in designing GIN simulations that are more engaging to students so that they act. In mentoring others, I have developed the ability to lead without controlling. I hope I have inspired change that will continue even after I leave.
My interest in business and the environment led me to intern at Loop Swim, a Shanghai-based eco-friendly fashion company that produces swimwear from recycled plastic bottles. At Loop Swim, I created and managed blog content which emphasized the importance of a sustainable consumer mindset. I addressed sustainable alternatives to many of our daily defaults as well as promoted moral responsibility for protecting our planet's ecosystem.