Graduating senior Amy Lin was elected by her peers to deliver the senior address at this year's Concordia High School graduation ceremony. Here is her speech in its entirety.

Concordia Shanghai Class of 2021 Senior Address Delivered by Graduate Amy Lin
Good morning Concordia administration, faculty, friends, families, and fellow graduates. Thank you for being here today to share this very special moment with the class of 2021. It is my great honor to stand before you today and celebrate the years we've spent together in this loving community.

As much as we've looked forward to this day, a part of us wishes this day had never come. Though it feels like we had just started, our precious high school experiences are coming to a conclusion. In a few moments, this road we walked down altogether will deviate into 76, different, paths. But Concordia will always, always feel like home.

Before we all leave today, I would like to thank all our faculty on behalf of my class. You are the ones who arrive at school at 7am and skip lunch and leave at 8pm for one student to take an exam; you are the ones who show up at baseball games and track meets to support us even though the NFL is on simultaneously; you are the ones who volunteer to be in the school musical, band, prom, Olympic week; you are the ones who put on glasses to decode our horrendous handwriting because you believe that we are more than a sheet of scantron; you are the ones who push us from our better to our best. So truly, thank you. And of course to our parents. Thank you for rising up before the sun does to pack our breakfast sandwiches, thank you for leaving work half-done to deliver the project we forgot to bring that morning, thank you for putting up with our immature tantrums with your patience and wisdom, thank you for giving us unconditional, irreplaceable love, and thank you for being everything we ever want to be.

Before I bid my farewell, of course I want to revisit the significant obstacles we've overcome, the incredible memories we've created, and the lifelong relationships we've built.

Prior to entering high school, we all knew that the academic, athletic, and extracurricular commitments were going to be more intense. But none of us, none of us, was prepared for an outbreak to hit our entire student population, the outbreak of senioritis. We were all impacted to different degrees, with some being plagued since freshman year. I mean, just think about the number of times we contacted Lilian at the high school office. How come everyone suddenly needed to go to the dentist 4 times a month? Oh, and can't forget how we totally needed an extension for that novel assigned 7 weeks ago because of an econ test the next day.

In all seriousness… we've accomplished so much throughout the past four years. We got into colleges, had undefeated athletic seasons, but more importantly, became better versions of ourselves.

Anita and Lillian going from freshmen new to Concordia to the admirable leaders of sustainable success, Cindy and Ivan from quiet students in AP Bio to finalists of one of the most prestigious science fairs, Isabel from the shortest girl in the grade to the captain of varsity basketball, Henie from a talented writer to the founder of creative writing club and chief editor of zeitgeist magazine, Cyrus from a comp-sci maniac to the creator of games that occupied everyone's studyhalls, and Alan and Yuna, from concert violinists to first chairs in Chamber Orchestra. High school might mark the end of physical growth for some of us, unfortunately, but certainly not our mental growth.

High school is when and where we learn from our mistakes so we don't keep forgetting the ampicillin when plating bacteria, neglecting the plus C in integration, using our left hand

for the right hand rule, drawing an upward demand slope, or pronouncing Socrates as Socrates.

What's more than overcoming our shortcomings though is our resilience through a time of adversity. Two years ago, seniors were recognized for their 4-year athletic accomplishments at their last banquet. But who knew that'd be our last as well? Two years ago, your parents were excited to call off work early and show up at Phoenix Friday. But who knew watching you sit on that bench for two hours is the closest they'd ever get to seeing you play again? Two years ago, you weren't extremely disappointed about losing to SAS at the championship game because there were two more APACs to come. Or so we thought. Who knew carrying that banner back was no longer a far dream, but an impossible dream?

Our junior and senior years were different from those of the class of 2018 and 2019. One less Olympic Week, midnight AP testing, lunch with dividers, school with masks, assembly with strict seating, cancelled athletic tournaments, restricted entrance to school, and the off campus venue for graduation. But through it all, the best thing about Concordia is the one thing that hasn't changed and never will, and it's the people. Each and every one of us is unique, having different talents and hobbies, but we all share one commonality—our ability to unite, encourage, envision, and persevere. We unite, from having the loudest crowd during Olympic week to having Concordia gatherings a few years from now. We encourage, from making posters for our peers at Phoenix Fridays to being the most supportive colleagues at work. We envision, from looking forward to holding that high school diploma to anticipating for our dream job positions. We persevere, from fighting through a period of uncertainty and loss to building our futures.

The time has come, yet the hardest part about leaving isn't saying goodbye, because it could be a see you again. But rather, no longer running into the same faces on your way to math class, using the elevator at 8:24, and of course, seeing Mr. Gordon in his plaid shirts and cardigan sweaters. The daily boba runs will turn into weekly or even monthly ones. The free dress you constantly looked forward to will become a dilemma that plagues you every morning . There won't be a Dr. Rizzo 2 minutes away. And the didi location won't be set to Huang Yang 345 for a while. You will slowly have to get used to saying goodnight to your friends when it's your own morning, get used to looking forward to microwaved instant mac and cheese because the woman that served you warm, freshly made noodles will then half way across the globe, and get used to the stomach aches and headaches that used to get you a day off because the worst sickness will then be homesickness.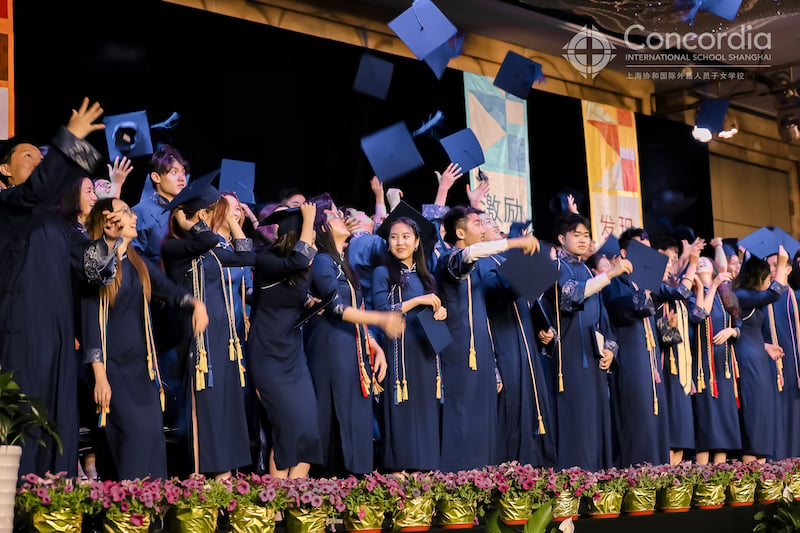 We are Concordia. And in a few moments, we are Concordia alumni. Mr. Chowning has always emphasized that we don't eat alone, we don't study alone, we don't cry alone. But the greatest challenge and uncertainty ahead of us, we have to face alone. Right now, we are seniors. Remember when we made it through 9th grade at Concordia as a group of nervous, confused freshmen? In a few minutes, we'll be freshmen again, repeating the same process, except as 76 individuals on as nearly as many different campuses. But no distance can distance a family.

So to us, the Class of 2021. Happy graduation!