College application season can be a daunting period for high school seniors. So, it never hurts to get advice from those who have gone through the experience and lived to tell the tale. For this week's Applying to College post, we caught up with a few of our Concordia Class of 2020 graduates to get their take on the college application process and find out what their campus life has been like so far.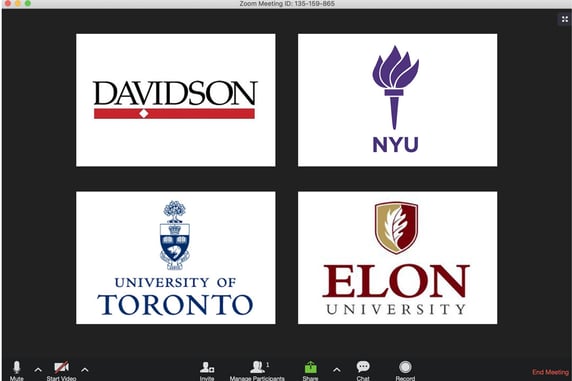 At a Zoom event hosted by Concordia counselors last month, our senior class had a chance to hear from four recent grads, three enrolled at universities in the US and one in Canada. And the first thing students wanted to know was how these alumni have been managing a freshman year thrown off kilter by COVID.
What is college life like for our alumni panel?
One panelist, enrolled at Elon University in the US, has started the semester here in Shanghai with a course load that is entirely online. Because some of these classes take place in real-time, she has had to make adjustments to her daily schedule. This alumna seems to be thriving under these conditions, as the distance learning format has afforded her more flexibility and control over her schedule.
The majority of classes for another of our panelists, this one attending Davidson College, have gone online as well. Even though he is presently on campus in the US, his school's social distancing policy has him doing most of his classes and homework from his dorm room.
Our third panelist is enrolled at NYU and has been fortunate enough to be able to take advantage of his school's "Go Local" program, which allows him to attend classes at the satellite campus here in Shanghai.
Campus life for our fourth panelist, who is attending the University of Toronto, seems to be closer to what one might expect. Though classes still take place via Zoom, he shares that students are allowed to convene in small groups while still practicing social distancing and wearing masks.
What is the most important thing to consider when choosing a school?
Our panelist at NYU, urges students to look past school rank and reputation and focus more on fit, stating, "I believe, and our counselors talk a lot about this, it's a lot about how well the school fits you and you fit into the school." He continues, "It is best to consider what environment would be better for you and how you work."
To this, our panelist at Davidson adds, "I initially thought I wanted to attend a really big school in the US, but when I visited Davidson, I really liked the liberal arts education format of a smaller school, so that's really what pushed me to apply."
Program type and scholarship options were important considerations for our Elon student who was admitted to the school's Honors Fellows Program. She shares, "I was definitely looking at fit, but also getting into a good program that offered a good scholarship was a game changer for me in deciding where I wanted to go."
Click here to read
"Planning for the Future and Making Best-Fit College Choices"
What is one thing you would have done differently during the application process?
"The counselors told us to write our essays early so we would have more time to revise them, and I definitely wished that I had done that better," admits the panelist at University of Toronto. "Especially," he adds, "for those essays you write for entrance into special programs where they are not looking so much at scores but your experience and personality."
Our NYU panelist confesses he could have been better organized and motivated during the process. "I found that I was much more motivated during the early application deadlines, but then became less motivated as time went by."
And for our Elon student, she wished that she had asked for more help and sought advice from people who had already been through it.
What can seniors expect from college courses?
Panelists from both Elon and NYU agreed that university professors are more hands off, leaving students to their own schedules, organization and work habits. "It's not like high school where if you are late on an assignment or miss a test the teachers will let you make it up," shares the NYU panelist. "If you miss something, you'll just get an F."
To this, our University of Toronto panelist responds that he finds it helpful to tap into some of the resources available at his school. TAs, study groups and professor office hours have provided opportunities for him to ask questions and have helped keep him on track in his courses.
Do you feel like you were well prepared for university?
"I do feel like Concordia has prepared me for the workload and for the types of things I have been expected to do," says our Elon panelist. "Concordia teachers were quite similar to my university teachers in that they expected a lot from me," she adds.
"Concordia kids are smart," declares the NYU panelist, "so there's a bit of a competitiveness that makes you want to try more. So at my university, I'm already used to that level of student performance."
How can students make the most of their last year of high school?
For this question, all four panelists agreed that seniors should value their friends and the time they to spend with them. After app season is finished, they suggest that seniors take time to relax and enjoy the final days of high school because they'll be expected to work hard as soon as they start university.
This post is part of our Applying to College

series, which we've put together

to

better prepare

students and parents for th

e college application process

.

W

e've enlisted

help from our Concordia high school counselors and alumni, w

ho

share tips and advice

on how to

get

ready

for

this important rite of passage.