The area known as Xujiahui sits on the one square mile site of Saint Ignatius Cathedral established with land donated by the family of Xu Guangxi whose name is parent to Xujiahui. Xu was famous for his conversion to Catholicism and support of the church. At its height, the complex was home to orphanages, schools, monasteries, libraries, and an observatory. Its establishment led to an effective expansion of the size of the French Concession as the corridor between the cathedral and the French Concession ceded to French policing and business.
With the establishment of a communist government after the Second World War, many of the Jesuits abandoned the site for the Philippines or Macau. Through to the 1990s the area was mostly factories, which were torn down and replaced with an entirely new commercial infrastructure. Today Xujihui is a commercial hub of Shanghai and is not known for green space or culture outside of the Saint Ignatius Cathedral that still stands but with the name Catholic Church instead.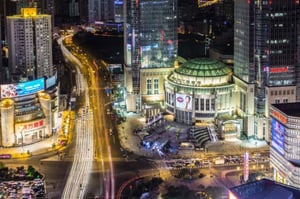 The corners of Huashan Lu, Caoxi Lu and Zhaojiabang Lu is one of the city's busiest and most jaw-dropping. Towering digital advertising like that of Tokyo or New York regale this nexus of technology. Metro City with its locally iconic neon glass ball entrance is the center of the city's retail electronics and computer universe. Next door is the spot where with much fanfare, Best Buy tried and failed to break into the Chinese market.
There is a growing community of expats that call the area home and in general, the mix of high-end serviced apartments and private apartments provide comfortable high-rise living. International schools all have busses that service the area with some being nearby. If you chose to live near the center of Xujiahui, transportation will involve the Metro to some extent as traffic is horrible in rush hour and taxis an endangered species.
The area's proximity to the former French Concession next door is a big attraction to many as the rents in Xujiahui tend to be a good step down from addresses within the tree-lined streets of their neighbor and those streets are walking distance away and the Bund only 15 minutes by taxi or less if outside of rush hour traffic.
Xujiahui Park is the only green space of note and is effectively connective tissue between the two areas. For many residents of the French Concession, Xujiahui is like the huge shopping mall next door, with its Electronics Market, Carrefour, Ikea, Decathalon and mall food courts. For residents of Xujiahui, the French Concession is their world-class international dining and drinking scene on their doorstep.
That isn't to say that there aren't a plethora of restaurants in Xujiahui, because there are, they just tend to reflect the more local flavor of the area.