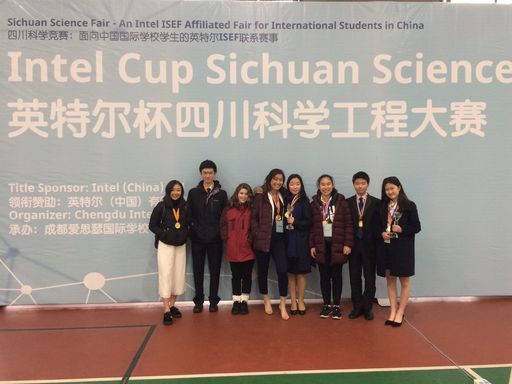 International students from all over China had a chance to showcase their scientific research at the Intel Science and Engineering Fair in Chengdu this past January. This year, four of the 33 total projects were submitted by Concordia students, and all four were awarded superior ranking by the judging panel. Three of the projects were included in the top five spots that will have a chance to participate in the finals in the US this May, where they will be reviewed and judged by doctoral-level scientists.
The three projects admitted to the Sichuan Intel Science Fair finals were:
Fish & Snips: Facilitating Wound Healing Through Tilapia Collagen Dressing, submitted by Julie B. (G11)
Using CRISPRi to Analyze the Role of PTRF in Tau Uptake in Central Nervous System Culture, submitted by Helen Z. (G12), and
The Nutmeg-ical Solution: Investigating Bactericidal Effect of Myristica fragrans for Treatment of Heliobacter pylori Infection, submitted by Yoonhyun J. (G 11), Dakota M. (G12), and Anna W. (G11)
The fourth project, The Power of Gutter Oil in Microbial Fuel Cells, submitted by Emersyn L. (G11), Katherine X. (G11), Johnathan Z. (G11), was awarded the ASU Walton Award for Sustainability.
Students tackled challenging projects, and became experts in their chosen topics, representing the knowledge, skills, and attitudes that we strive to develop in all our students, report Concordia teachers Daniel Barrientes, Todd Gordon, and Carla Molloy, who accompanied this year's group of students to Chengdu.
"We are ecstatic to see that their hard work has paid off," says Barrientes, "and we look forward to seeing what amazing things the future holds for them."
The Intel International Science and Engineering Fair is the world's largest international pre-college science competition. More than 1,700 high school students from over 70 countries, regions, and territories come together to present their independent research and compete for more than $4 million in awards and scholarships.
APPLIED LEARNING THROUGH THE CONCORDIA HIGH SCHOOL INDEPENDENT LAB RESEARCH COURSE
All of the eight students who submitted projects are currently enrolled in Concordia High School's Independent Lab Research course. This applied learning course allows students to develop and carry out independent research in the area of life science under the guidance of one or more faculty members. The goal is to have a project that may be entered into a science fair or a paper that may be published.