During the fall co-curricular activities season, middle school girls in Concordia Shanghai's Raspberry Pi 101 CCA will be exploring computer science concepts through a series of activities led by high school STEM girl Nicole Q. (Class of '23).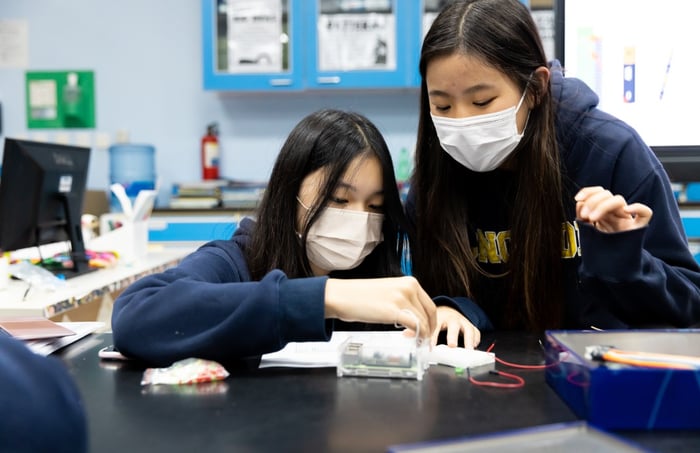 Recently the girls have been learning to use small single-board computers (Raspberry Pis), Python coding, and simple circuit theory to control LED lights and make awesome designs.

This CCA has been designed for girls and by girls with the aim of inspiring the next generation of female leaders in Concordia's STEM community. The participating middle schoolers are learning basic python techniques, building practical engineering skills, and developing an "engineer's mindset".
"In order to increase the number of young girls in STEM, it is important to expose girls to STEM projects at an early age, because people often think that it's 'too late' to start in high school," says Nicole Q.
She wants her female peers to know that STEM isn't just a "boys' thing", and that STEM opportunities are always open to them.

Early exposure to STEM-related activities in school has been found to positively affect a student's STEM identity, shares Dr. Yujiro Fujiwara, head of Applied Tech/STEM at Concordia Shanghai.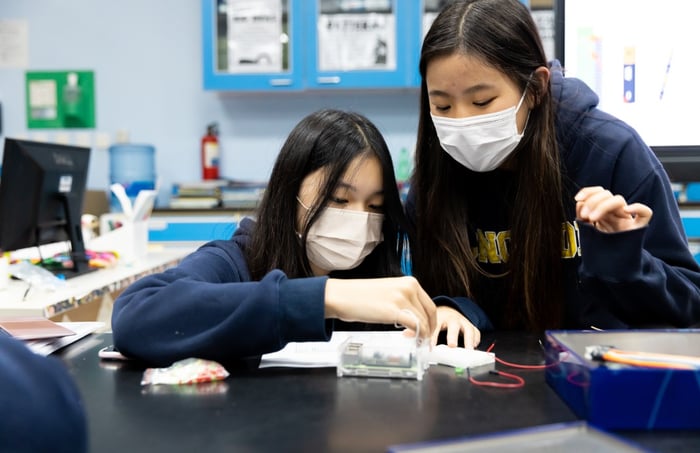 This STEM enrichment is particularly true for girls who, for various reasons, may shy away from STEM activities. So, seeing how our own high school STEM girls lead other girls into STEM at Concordia is exciting. STEM stars mentoring more STEM stars. How powerful is that! —Dr. Yujiro Fujiwara,
Head of Applied Tech/STEM
High school Girls in STEM club explores real-world STEM fields

In light of high gender gaps in some of the fastest-growing and highest-paid jobs of the future, such as computer science and engineering, Concordia encourages and empowers girls to pursue their interests in STEM subjects, providing them with opportunities to acquire a deeper understanding of these subjects as well as to gain career experience in the field.
Concordia High School has its own student club dedicated to allowing girls to further their STEM knowledge. The Girls in STEM club, which was inspired by the UN Sustainable Development Goals 4 and 5 (Quality Education; Gender Equality), organizes STEM fairs and interviews with professionals in different fields and provides many great opportunities for both experienced STEM students as well as though with a burgeoning interest in the field.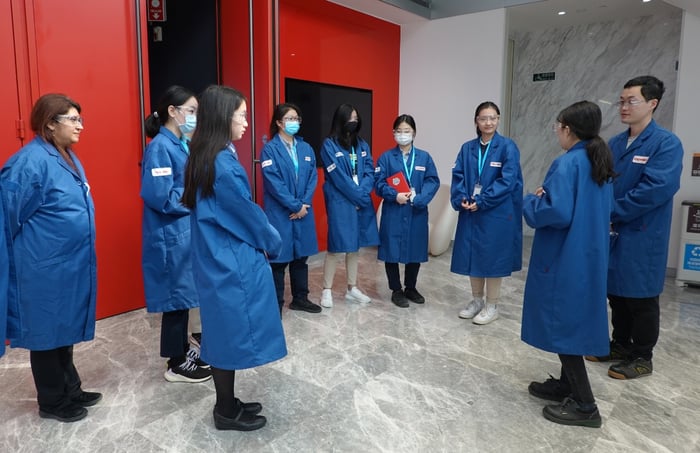 Last school year, in partnership with the Girls in STEMM program organized by SCHSAsia on behalf of the Women Empowerment Council (WEC), 11 Concordia high school girls were able to gain real insight into the daily life of STEMM (where the 2nd M is for Medicine) professionals, develop connections with inspiring leaders and role models, and learn about diversity, inclusion and impact at the world's leading companies.
High school students Yiwen L. & Sophia C. had this to say about the experience:
"We visited ExxonMobil, one of the world's largest gas and oil companies, where we got to tour the labs and learn about the company's history, how they operate, and their focus on sustainability both within the employee community and in society at large. Several women leaders at ExxonMobil also spoke about their career journeys in the STEMM industry, sharing how important their school years were in exploration and building the foundation for their current intellectual, leadership, and adaptive capabilities."

Participation in STEM-related activities is more than just driving students toward careers in engineering or computer science, adds Dr. Fujiwara, rather it's more about "empowering students to be literate in STEM-related matters and enriching their STEM capital."