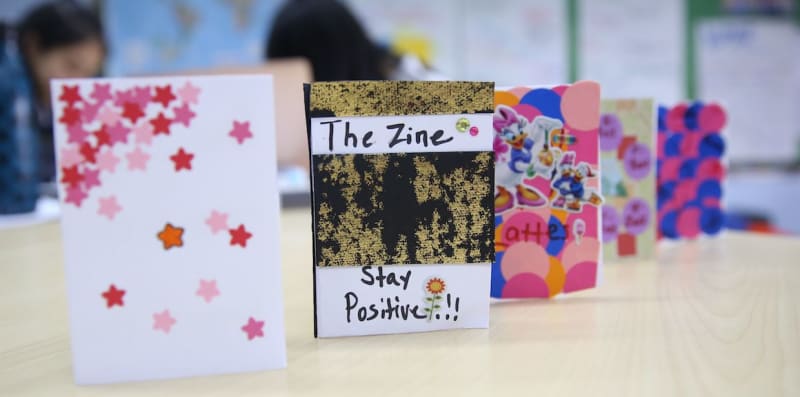 The "big kids" are often a mystery to a school's youngest learners. Since they spend their time in a different area of the campus and come and go with such independence, younger students usually only encounter them in passing and typically with a sense of awe and apprehension.

When I joined the Early Childhood division at Concordia Shanghai, Dr. Drew Gerdes, the principal, mentioned to me that he would love to see our young learners interact more directly and intentionally with older students. Understanding the power that art has in bringing people together, I knew that a collaborative art project would be just the thing to connect the two groups. To do this, however, I would need the right kind of project and a willing collaborator.
If you want to go fast, go alone. If you want to go far, go together.
–African proverb
I approached Mrs. Jane Klammer, one of Concordia's high school art teachers. Mrs. Klammer is the type of teacher who is continually looking for ways to connect, be it in her teaching or in her art practice. It seemed fitting that she and I team up for an EC x HS creative collaboration.
We needed a project that would allow for creativity and artistic effect but still be engaging and educational for a diverse age group. That led us to zines, small publications made out of a single piece of paper folded into a book form. With that decided, we were off to make art.
Kindergarteners Join the "Big Kids" on a Color Walk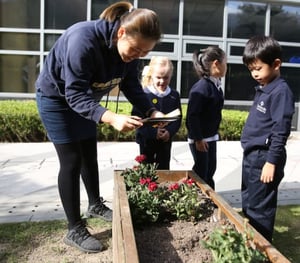 We began our zine collaboration project with a color walk. This was born out of a university course I designed called Psychogeography and the Sketchbook. In the course, we took a lot of walks and adapted the playful philosophy of psychogeography, which is the way a place effects ones psyche, and in turn our studio practices. Sometimes a walk would have a prompt, for example "the color walk", which involved choosing a color and following it, letting the color lead you from place to place and then creating artwork based on the process.
As I considered my unit on color with the Kindergarteners, I thought that the color walk would be a perfect fit. Children are very much in tune with the details of their surroundings. For them, every corner is a new space to discover. This inquisitive outlook can turn recess into a treasure hunt, where picking up leaves, bits of paper and stones is like unearthing priceless artifacts. I knew they would love the challenge of hunting for color.
In preparation for this walk, we made color wands, which we made from colored markers from the same color family taped together. This added to the magic of the hunt but also helped students recognize that there were many different types of color that belong to the same family. Each group had one wand, an iPad, and the best part of all— a "big kid" (a.k.a. a high schooler) to accompany them. The children could barely contain themselves. They exploded out of the school doors excited to lead their high school buddy around campus on a hunt for color.
The Three C's of Zine-Making: Color, Creativity and Collaboration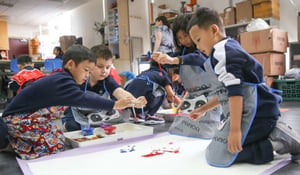 As a result of our color walk ,we had high schoolers inspired and encouraged by the kindergarteners love for creating; kindergarteners who felt like they now had a "big kid" buddy; and iPads full of colorful pictures as a record of the morning's events. In the days that followed, the high school art students scanned the iPads, looking for inspiration and fodder with which they could create collages.
Meanwhile, the kindergarteners explored the joys of color mixing in the high school art classrooms, using large sheets of color, water droppers, rollers, and poured paint. They gasped as yellow and blue made green, and how if you added a bit more blue you would have a darker green. once finished, they graciously handed their colorful creations over to the high school students to use for their zines.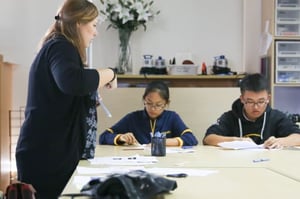 Back in their respective art classrooms, students set to work creating their zines. High schoolers finished their color collages using the paintings the kindergarteners had given them. The kindergarten students, now well versed in color, learned how to fold and refold their colorful creations to form their zines.
A zine exchange was the final part of our EC x HS Zine Project. This is a popular event in zine culture, where zinesters (people who make zines) will trade their works with other zinesters. For our zine exchange, each kindergartener received five copies of the zine they made, and a mini portfolio, which they were encouraged to exchange with their new high school buddies. This was truly the highlight of this collaboration. It was a joyful event.
While it was beautiful to see the ways students shared their art with one another, it was even more encouraging to see all of the learning opportunities that came out of this project. The benefits of collaboration not only include social and emotional learning, according to the Art of Education University, it encourages empathy and understanding, while building trust and inspiration.
The EC x HS Zine Project was a meaningful, reflective exercise that resulted in all of us thinking about the joys and complexities of color and collaboration. As I look at my curriculum for next year, I look forward to including more of these learning experiences and challenges for our students.
Stephanie Barenz-Wiegman is the early childhood art specialist at Concordia International School Shanghai.