The Advanced Placement (AP) Program at Concordia is a rigorous academic program that offers university-level courses and exams to high school students. AP classes are completely elective; however, students who have demonstrated scholarship in prior related subjects are encouraged to consider AP classes because they offer advance-level of course work at the high school level.
Here's what you need to know about AP
AP courses are one year in length and span all subjects. Students who take AP classes are graded by their high school teacher and also take an external assessment from College Board (the same company who makes the SAT). The external assessment is scored on a scale from 1-5. Scores of 3 or higher are considered passing grades. Many universities accept scores of 3 and higher as university credit, so students can complete many university classes while still in high school.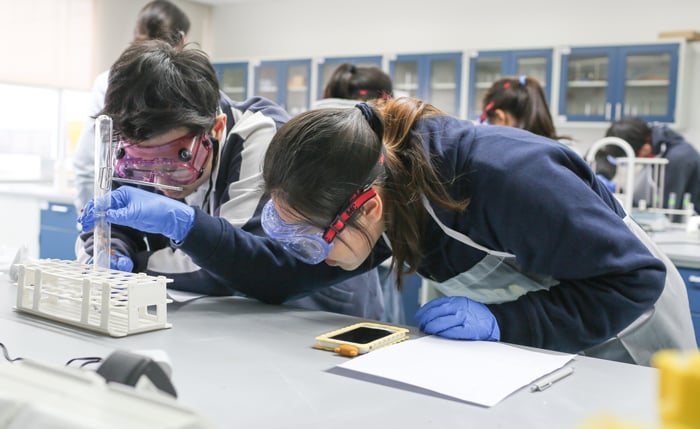 The AP system focuses on university level material across all disciplines. For instance, an AP Chemistry class is the equivalent to an entry level Chemistry course at a university. AP is recognized by universities around the world as one of the most rigorous curricula available at the high school level.
Advantages of the AP program
The biggest advantage the AP program affords students is it gives them the opportunity to complete university level work while in high school. Peer reviewed published research consistently shows that students who are successful at AP classes in high school achieve higher GPA's in university.
Taking AP courses in high school also helps students with university admissions. By taking AP classes in high school, students are communicating to universities that they are taking the most rigorous classes available at the high school level.
While all students have access to AP classes, determining how many AP classes a student takes during their high school experience is a decision that should be made in partnership with the school counselor. For instance, Concordia students average about six AP classes during high school. Some students take more and some take less. It all depends on each individual student's interests and the type of universities they are looking to attend.
Students should identify subjects for which they are passionate and consider their long-term academic goals. They should also make the decision in partnership with their school counselor.
How does AP compare with other programs like IB?
AP compares to IB (International Baccalaureate) in that they both signify to universities the same concept: university level rigor in high school. IB scores (for HL classes) can also count for university credit. The major difference is the AP courses are one year in length, while IB courses are two years in length. One advantage for AP is that students have more flexibility in their schedules in 11th and 12th grade (American System) because of the one-year length of the courses.