We are proud of our graduating Class of 2022 who have gained admission to an impressive list of colleges and universities across the world, including top-ranked universities and best-fit colleges with specialized programs.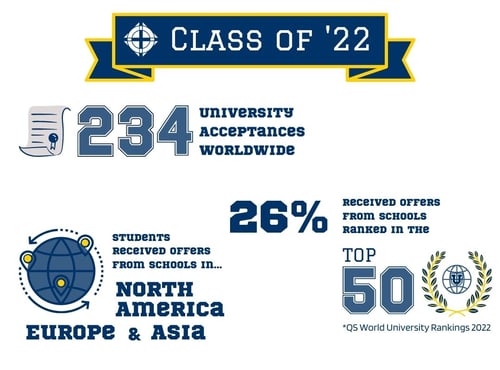 Our students have achieved truly impressive results despite increasingly competitive college admissions. As of May 3, 2022, Concordia students have received 234 university acceptances from around the world, and 26% of those offers were from Top 50 universities. (QS World University Rankings 2022)
While students applied and received offers from top colleges in the UK, Germany, and Italy, the United States remains the top choice of destination for most students — 82% of our seniors will pursue higher education in the U.S. Others will be matriculating to schools in Canada, South Korea, and Hong Kong (China).
Among those students who are going to US colleges...
38% will go to TOP 25 US colleges
51% will go to TOP 30 US colleges
67% will go to TOP 50 US colleges


(2022 US News Rankings)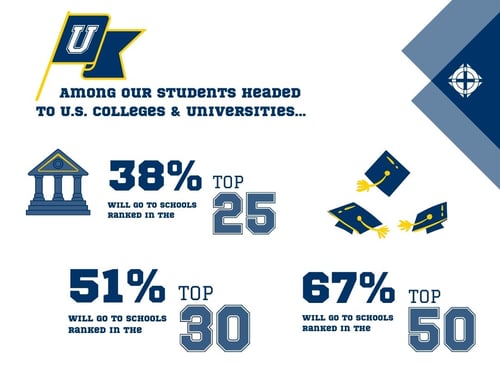 At Concordia, we value every application and every student equally. We provide support to our high school students by helping identify their needs and providing direction on how to choose a college that is best fit for them.

There are many reasons a student may be interested in a particular university, ranging from the school's reputation, location and size to its social and academic offerings. A student may sometimes choose a school based primarily on name and brand recognition. Another may be drawn to one school over another because it's one that their friend has chosen to attend. No matter the reason, according to Concordia HS counselor Patrick Love, it is important that students look deeply at whether the school they choose offers the best programs to suit their goals, or whether the school's culture is one in which they will thrive. A "best-fit" university is one that meets all (or most) of a student's specific needs for success.
What Does "Best Fit" Mean?
"Best fit" is hard to define, as it means something a little bit different for each student. Typically, the definition consists of three components:

Academic: Does the student genuinely appreciate the learning opportunities available and will they thrive as a learner in that environment?
Cultural: Will the student feel like they have found their "people" or their "tribe"? Will they feel at home and appreciated in the community?
Financial: Is attending the school fiscally realistic?
Concordia's team of highly experienced and dedicated counselors help students to reflect on and understand their academic, cultural, and financial preferences so that they can identify a range of schools where they will find the most success. We believe finding a best fit will help students to best prepare for lifelong success.
"Whenever I reflect on the amazing colleges and universities that admit Concordia's students," says Patrick Love, "I'm reminded that no one student can gain an admission by themselves. Students can only reach their full potential with the love and support of their family, friends, teachers, coaches, and counselors. With that in mind, our students' success is a reflection of the power and love of our community and the values we embody."