Over the summer, Shreyas S. & Marcus C., two extremely bright and intrepid middle school students at Concordia Shanghai, made their way to the R&D headquarters of Da-Jiang Innovations (DJI) in Shenzhen, China.
Since DJI is the leading manufacturer of professional drones, this was a fitting pilgrimage for the pair, who are both passionate members of Concordia's Middle School Drone Club. Here, Shreyas and Marcus provide an account, in their own words, of this unique and memorable experience.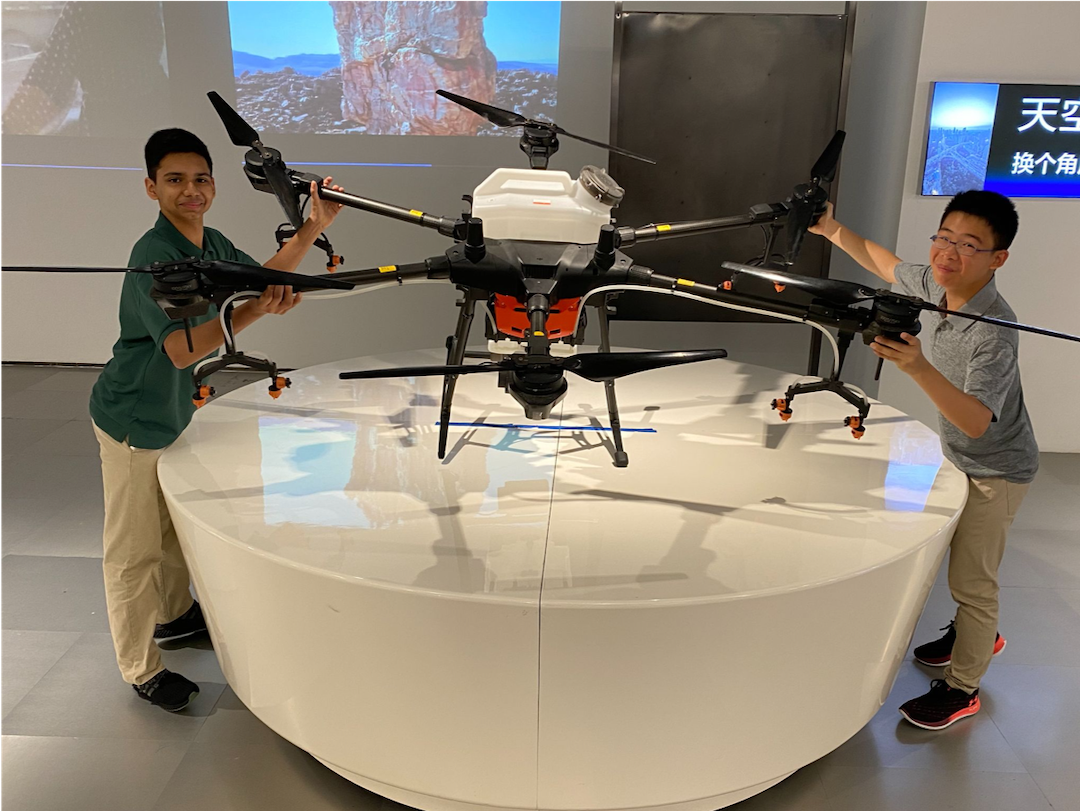 We've just returned from an amazing trip to Shenzhen, China, the drone capital of the world. Below is a recap of our amazing once-in-a-lifetime journey to the far reaches of Guangdong, China.
Arrival
We landed at Bao'an airport in the early afternoon and took the day off to rest & refresh ourselves. The following day, we woke up bright and early, headed to the DJI R&D headquarters.
Day 2
We checked in then met Mr. QianLi and Mr. Yang. We first started off by showing them some programs that we wrote leveraging the DJI Tello SDK, for example, Our Augmented Reality Drone Controller [DJI Tello AR Control]. We then explained some of our solutions to the biggest problem that we faced with our Tellos: Thermal overheat causing the drone to shut down. Our solution was to modify the baseplate, with a new dynamic 3D printed one.
Not long after, DJI gave us a chance to test out their newest product, the DJI RoboMaster Drone Swarm kit. We were able to have a couple of hours of hands-on experimentation with the Swarm Kit, and made a few short shows, which were quite exquisite. The swarm kit utilized DJI's newest technology module, the Expansion Module, which allowed for us to display CISS using multiple drones.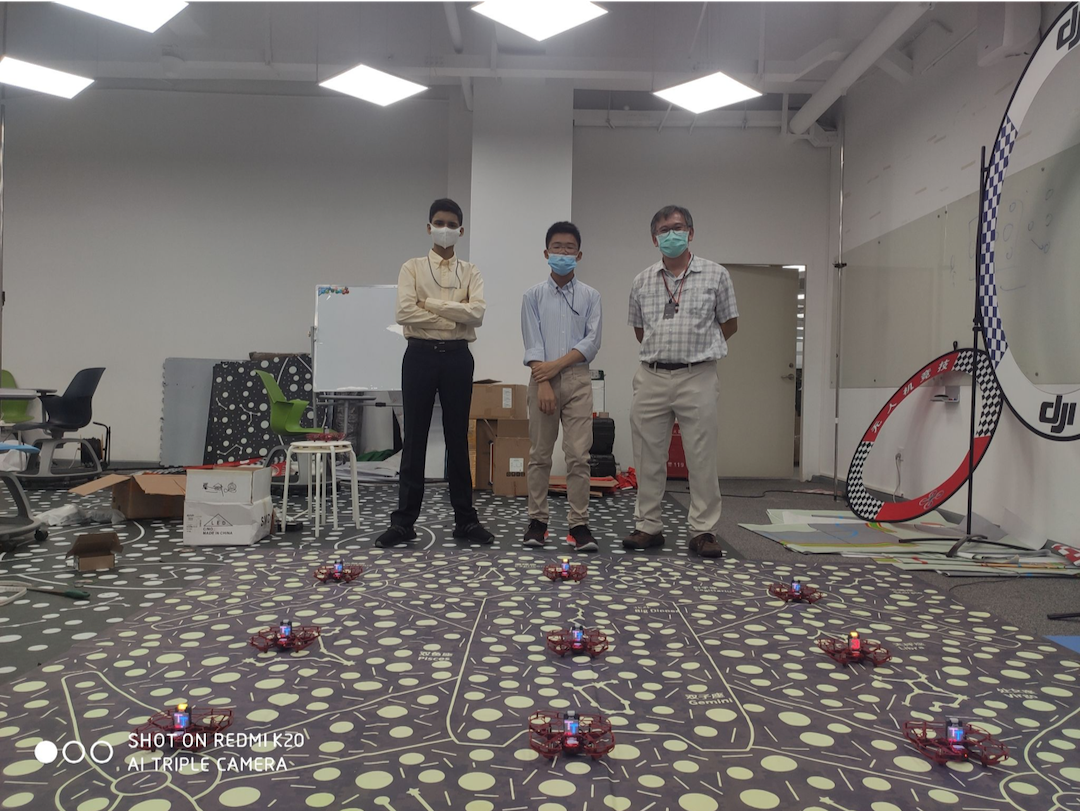 After some short programming, we were able to get all 10 of the TT drones connected to the WiFi Access Point (AP), using IP (Internet Protocol) addresses. With the AP in place, we were able to use the Tello Formation (TF) Assistant to help us produce some of the most breathtaking and awe-inspiring drone swarms - All with the applaudable guidance of Mr. Qian Li from DJI, who helped us make this trip possible from the very start, and helped arrange all of our activities at DJI.
Day 3
On the 3rd day of our visit, we were once again up bright and early, and ready to move out at 8:00 AM sharp.
We were able to see all of DJI's drones to date, from the very first Phantom to the latest Agras T20 agriculture drone. We were even given a chance to try out some of DJI's industrial application drones!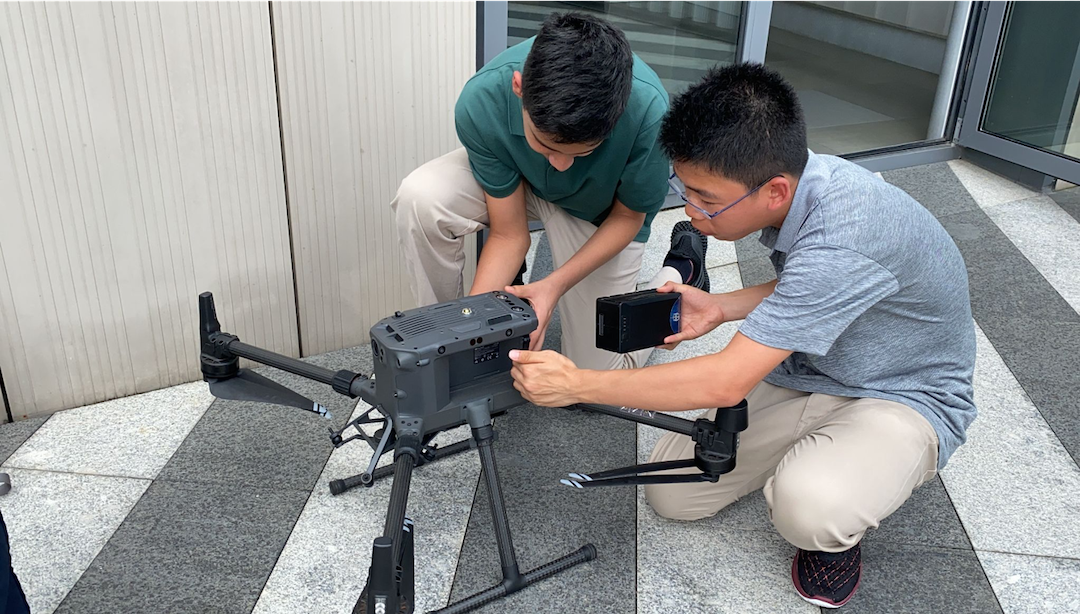 It was extremely monumental to get to see a flight demonstration of the mighty Matrice 300 RTK. We were all blown away by the majestic features of the T20 camera, which included 20x optical zoom, a laser rangefinder, and a Mavic-grade camera. When zoomed in to a building 50 meters away, we could see minute details of the sign atop the building in the clearest quality.
We then took the Mavic 2 Enterprise Advanced Edition up for a flight and learned about the various applications of industrial unmanned aerial vehicles. The M2EA included a radiometric thermal camera alongside a Mavic-grade visible light camera. We were able to use a Thermal Infrared Camera, and check out some of the mind-boggling footage - such as real-time temperature readings. The camera was surprisingly able to pick out a GoPro on the ground.
We also got a first-hand look at the effectiveness of the ADS-B transponder system, when a manned aircraft entered sight
From the entire planning of the trip to the grand finale of the trip, we were constantly supported by Dr. Tong, and our parents. We would really like to thank Dr. Tong and show our gratitude and appreciation for all the extra work he had put in to make this trip a reality. His mentorship and guidance have really helped us grow to where we are today. Our parents helped support us from the very beginning too and made this trip possible for us.
Check out the Concordia Chronicle to read more stories about the exceptional educational experiences taking place at Concordia Shanghai.