The leap from eighth grade to ninth grade marks a turning point in a student's school career. Therefore, it is understandable that eighth graders and their parents would view the occasion with a great deal of excitement as well as a bit of apprehension.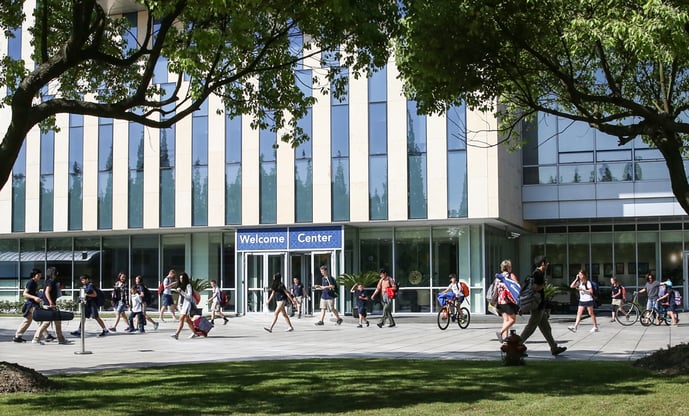 To help assuage feelings of uncertainty, our middle school principal alongside our high school principal and counselors have come together to share with the parents of our eighth-grade students what they can expect from their child's transition to high school.
During the middle school years, teachers have the opportunity to get to know their students very well. The time spent with students allows teachers to gain valuable insights into the areas where students excel and where they need support. As part of the care and concern process, Concordia middle school teachers share their insights with fellow teachers and counselors as a way to ensure students are being challenged and supported.
It's a benefit, says middle school principal Dr. Andy Aldrich, that we are able to help with this transition through well-targeted meetings in which we share important knowledge about our students with teachers in the other divisions so that they are ready to help our students succeed. "That's the beauty of enrolling a child in a PS through grade twelve school which shares a campus," he adds.
Passion and purpose
Moving up to high school comes with a higher level of expectation for students in and out of the classroom. The vision of Concordia High School, as stated by its principal, Mr. Aaron Chowning, is for students to become "people with passion and purpose who lead change for the greater good."

Pursuing passion and purpose alongside learning is instrumental in helping your child find success in the world, says Mr. Chowning, "and these are at the core of what we do in the high school."
What to expect from the first year of high school
Here are three things rising freshman should expect when transitioning to Concordia High School:
Be prepared for more work.
Be prepared for a higher level of independence.
Be prepared to move fast.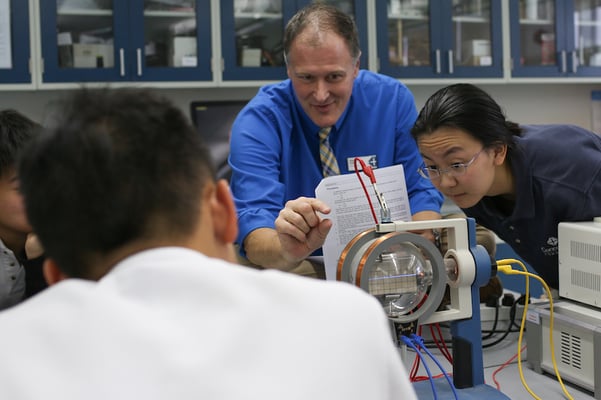 High school students are expected to keep a closer track of their own schedules and responsibilities with fewer people checking up on them. Classes are more challenging and expectations are higher. It is normal that some students find it challenging to adjust to these new pressures at first. This is why it is so important for students to proactively engage with their teachers and counselors who are there to guide and help them as needed.
Comprehensive high school counseling
Upon entering high school at the start of their freshman year students are assigned a counselor who will guide and support them through all four years of high school. A student's counselor is involved in various essential aspects of a student's high school life, offering college counseling, social-emotional counseling, transition support and parent-student consultations."This allows us to get to know the students more, their strengths and passions, so that when it comes time to apply to college, we can help students be successful as they move to the next level," shares high school counselor Lamonda Lewis.

For freshmen, the focus should be on learning how to do high school well. Counselors advise students on course selection and are available to discuss co-curricular options that are relevant to a student's interests and goals. As a student progresses through high school, counselors are there to guide them as they advance to higher-level courses like AP and Applied Learning.
The typical 9th grade schedule looks something like this:
Biology
English 9
Human Geography
Math- by teacher recommendation
World Language- by teacher recommendation
Physical Education/ Health
Fine arts - student choice of music (band or choir) or visual arts (Foundations of Art)
Study Hall/Spirituality
College Counseling
Counselors help students prepare for college applications by helping students stay on track for the graduation requirements, advising students on their course selection to fit their passions and academic goals, writing personalized recommendations, or helping students find the best fit schools and programs to apply to come college application season.
Freshman Seminar
A course taught by counselors and student leaders to help all freshmen students be prepared for the new challenges and unique aspects of high school. The course focuses on helping students build skills and abilities that will allow them to be successful in high school. Covers things such as time management and study skills as well interpersonal strengths to help students build emotional intelligence as they consider and develop relationships with their teachers and fellow students.
These courses, held monthly, help to create stronger relationships and connections between students and counselor, which lends itself to a more proactive counseling approach. "We really want to find ways to meet students where they are and to really know them and help them be successful," says HS counselor Patrick Love.
Social-emotional counseling
In addition to freshman seminar, counselors work one-on-one with students through our well-being and happiness engineering program. This is a data-driven program that allows counselors to deeply understand our students' experience over time and help the school be intentional about how each student is developing in every major area of his or her life.
Finding the proper balance
A big part of high school is looking at the student holistically. While academics are important, taking part and becoming engaged in other activities allows students to learn more about themselves from a non-academic perspective is equally important, says counselor Michelle Klar. "It's these things altogether that will carry [students] into adulthood and help them navigate that."

The high school has a tremendous amount of athletic and co-curricular offerings, and there is truly something for everyone. While middle school offers two seasons of co-curricular activities and two sport seasons, high school has three seasons of sports and clubs that meet year-round, allowing students to choose from the various sports and music and club offerings. Nearly all our high school clubs were created and are led by students, and many of them intentionally connect back or somehow relate to what students are learning in their classes.
Though so many choices can seem overwhelming at first, our high school courses and activities provide an opportunity for freshmen to try out different activities in pursuit of the perfect balance to support their interests and goals.
A final word
No child is a stranger at Concordia. "As a community, we are dedicated and continue to be dedicated to the success of our students as they move to high school and beyond," explains Dr. Aldrich. Here, each student is part of a continuing school experience and a fully connected school community.