Let's say you're a social enterprise that provides stylish reusable products in place of single-use disposable ones. What would you do to engage eco-conscious Chinese consumers?
That's easy. You get help from Concordia's Social Entrepreneurship class, who will conduct empathy interviews, ideate solutions, create and test prototypes, then determine the best approach. These are a few of the tasks students take on when participating in the AL Social Entrepreneurship Business Challenge. This applied-learning assignment gives students an amazing opportunity to take what they've learned in class and figure out how to solve real-world problems.

Semester Two Business Challenge
This semester, our high school students were tasked with a mission: to create a plan for Baluchon, a Shanghai-based social enterprise providing reusable cloth products as an alternative to single-use items used in our daily life, to capture the younger Chinese market. How can they position themselves as convincing, exciting and innovative to this customer segment and convert them to buyers?
Over the past weeks, students used the design thinking process to frame the problem and ultimately create a solution to the problem. After moving to distance learning, they presented their final solutions via a Zoom call to Nanou Gimonet, founder & CEO of Baluchon.
This is a challenge for young minds to analyze and solve business challenges. Some of the skills most sought after by companies around the world have been applied, such as analysis, effective communication and teamwork under pressure.
"I am impressed by the level of the students' presentations," shares Nanou. "Their solutions were practical and well thought out; they were backed up by research, interviews & a genuine interest in the subject. They captured the company's need and areas of improvement very precisely and have been extremely professional in their work & presentations."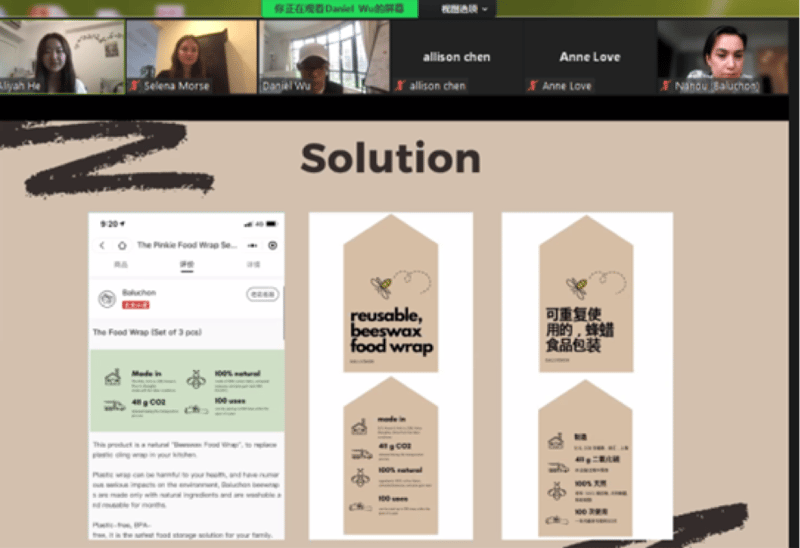 "The solutions that the students created were unique, met real needs, solved the problem and were extensively validated," comments Concordia High School Academic Innovation Coordinator Mrs. Anne Love, who is so proud of the work that the students have done, especially with their move to distance learning. 
More about the AL Social Entrepreneurship Course



AL Social Entrepreneurship is a college-level class with real-world application that was developed completely by Concordia. Each year, it partners with different social enterprises based in China to provide students with the opportunity to practice the skills of social entrepreneurs and make a real impact.  They experiment with creative solutions to challenges and cultivate resilience in the face of new challenges or failure. In short, they learn by doing.