This Thursday marked a significant milestone in our school's history, when we had a big celebration commemorating Concordia Shanghai's 25 years of knowledge, inspiration, and impact.
A Milestone Celebration: 25 Years of Concordia Shanghai
Twenty-six years ago, who could have envisioned that a humble paddy field in the Jinqiao Export Processing Zone of Pudong would metamorphose into a modern international educational institution? Yet, a small group of visionaries—Dr. John Schulke, Dr. Allan Schmidt, and Dr. David Birner—saw beyond the horizon. Standing at the intersection of Huangyang and Mingyue Roads, Dr. Schmidt prophetically stated, "I see it. I see Concordia."
Merely a year later, on September 7, 1998, Concordia began its first academic year with 22 students and a dedicated staff of 14. Under the stewardship of Dr. Schmidt, the founding Head of School, a fledgling institution took flight.
A quarter-century has elapsed since, and today our school is a vibrant community of over 1,100 students, providing a robust academic program that spans from Preschool to Grade 12.
Fast forward to September 7, 2023, and we found ourselves commemorating Concordia Shanghai's silver anniversary. Esteemed guests from the Pudong Education Bureau and the Shanghai media enriched the celebratory atmosphere and joined us in honor of this milestone.
The event commenced with a quartet performance by our High School Strings students, segueing into a heartfelt welcome by two student Masters of Ceremony.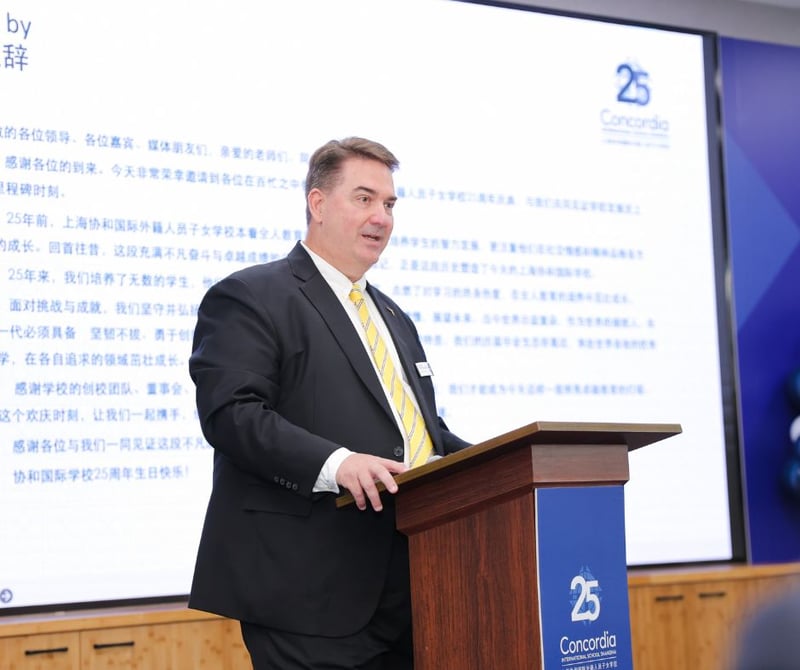 Voices of Leadership: Reflections and Visions for the Future
Mr. Steve Winkelman, the current Head of School, eloquently encapsulated Concordia's transformative arc and its indelible impact on the sphere of education.
"At Concordia, we believe that education is a transformative journey that shapes young minds and empowers them to become compassionate, critical thinkers ready to make a positive impact on the world. Our dedicated faculty, diverse student body, and state-of-the-art facilities provide the perfect backdrop for this journey of discovery and growth." —Mr. Steve Winkelman
In his address, Mr. Ding Lizhong, Chief Superintendent of Schools of the Pudong Education Bureau, expressed his expectation for Concordia's future.
"Today, as we stand at a new starting point, we see not only the school's past, but also its future. The Word of the Year 'Renew' is like a flag, representing both a spirit and an attitude towards the future, with the courage to embrace new challenges and opportunities ahead." —Mr. Ding Lizhong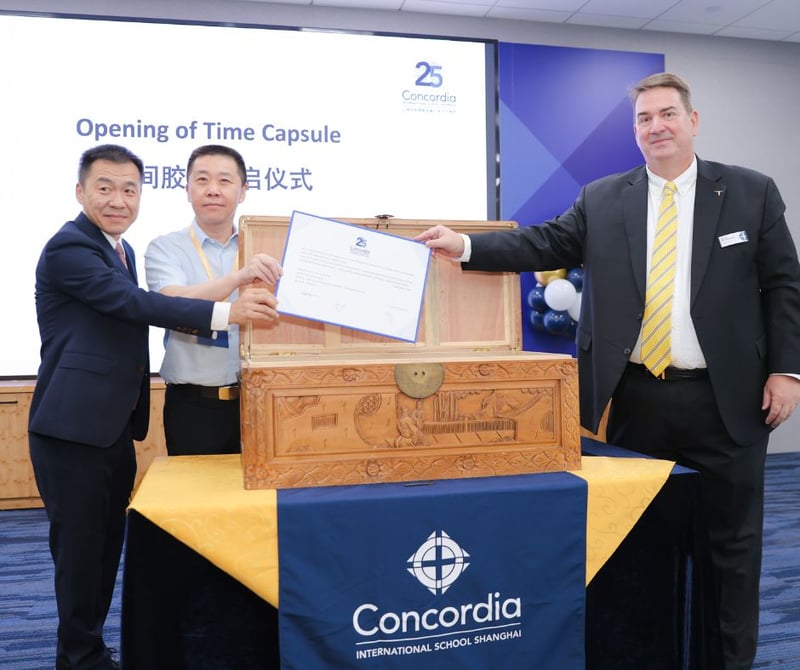 Unveiling the Time Capsule: A Testament to Legacy and Continual Growth
The climax of the ceremony was the unveiling of a "time capsule," a testament to Concordia's commitment to preserving its legacy. Assembled by a group of student representatives during Concordia's 10-year anniversary, this capsule contained gifts from the past, including a recording of a Middle School choir performance, a teddy bear from Heart to Heart, a local charity, an item that represents our school's rich history of service learning, and yearbooks from 2008-2009. These artifacts bridged the gap between the past and the present, serving as a powerful symbol of Concordia's dedication to growth, evolution, and perpetual learning. 
We also left our wishes for the next 10 years in the "Time Capsule". We look forward to the next time it is opened!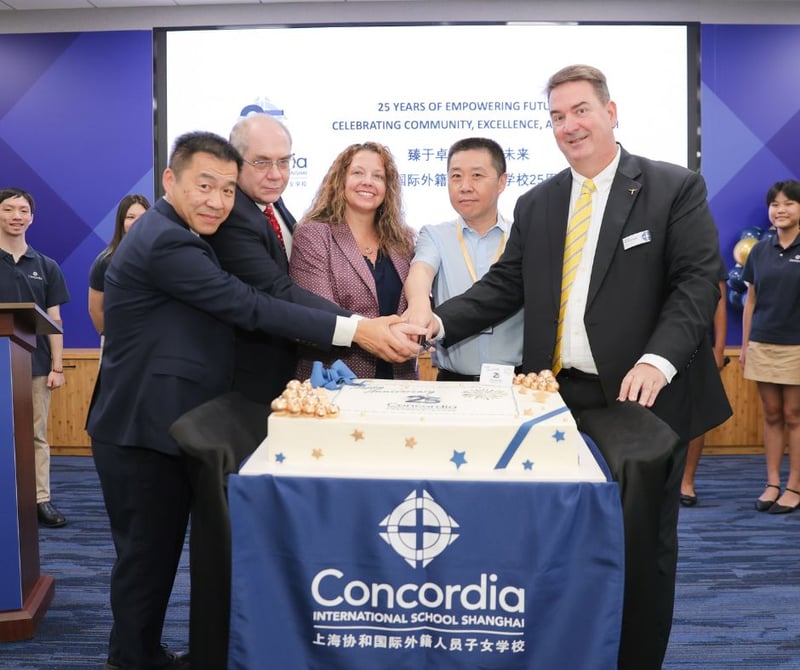 The Chromatics, Concordia's high school student a cappella group, delivered a heart-felt performance, before leading us in song to celebrate the 25th birthday of Concordia Shanghai.
Looking Ahead: Renewing Our Commitment to Excellence and Innovation
Extending beyond mere ceremony, the celebration invited attendees to delve into the pulse of Concordia's dynamic academic environment, illuminating our specialized programs in STEM, Balanced Literacy, Applied Learning, and Extracurricular Activities.
As we commemorate a remarkable 25-year journey, we expressed heartfelt gratitude to all our students, families, sponsors, and supporters. A new beginning awaits with dedication to our original mission, and we are looking forward to continuing our quest for excellence and innovation in the years to come.