Last Friday, the elementary school welcomed in some new teachers, assistant principal, and principal for the day. These teachers were professional, well prepared and took their responsibilities very seriously. It was a day filled with new experiences, some challenges and plenty of learning.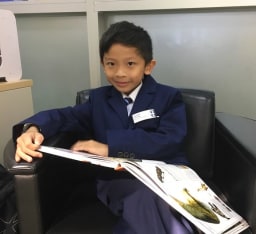 Here's what some of our young educators had to say about their time as teacher of the day:
"It was fun to have a pizza party and to work on solving a problem in our school." (Anna O.)
"I loved being a teacher, mostly because you get a cool desk, but I also liked being in charge! You also get a pizza party for lunch and you can ride the elevator, sometimes. Hopefully, I'll get to do it again." (Ryder L.)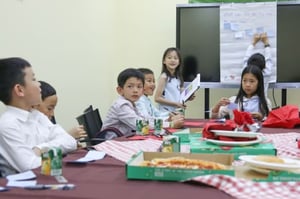 The teachers and principals of the day met for a "working lunch" where they participated in a Design Thinking session to discuss how to improve the school lunch. As a team they brainstormed and generated several ideas. After the session, the ES principal of the day, Alice L., and assistant principal of the day, Gareth L., had a meeting with a representative from Aramark to share the ideas the group had come up with. Thanks to the work they had done, the principals of the day were well prepared and self-assured. "Being Principal of the Day gave me the confidence to not be nervous in front of a group of people," shared Alice L.
Being a teacher in charge of a full class of students has its rewards, but it also comes with challenges. As Aditya P discovered, it's not all cool desks and pizza parties. "Teacher of the Day was a great experience," but it was hard to get the attention of my students. I realized that teaching can be difficult."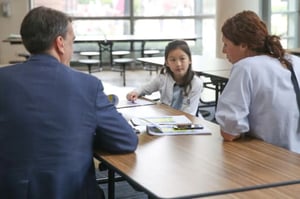 Our teachers of the day led their classes through a full school day schedule, which, according to Tiger L., is not as easy as it seems. "One challenge I had was knowing what to do next because I didn't really know how to be a teacher." Luckily, they had help from others with much more teaching experience. Have a look at the schedule that teacher of the day Anna O. completed with help from her "colleague," grade 2 teacher Ms. Raasch.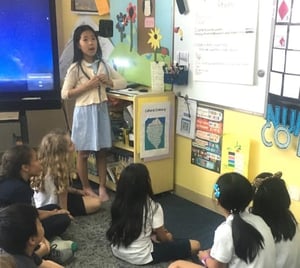 The teacher of the day experience is unique, for it allows the students an opportunity to view classroom life from a completely different vantage point. "Welcoming a 'teacher of the day' embraces ideals of community, teamwork, and preparation," shares Mrs. Stevenson, a grade 3 teacher. "The opportunity allows us to value the perspectives of each contributing class member, and it is truly worthwhile!"
Ayaka S. summed up her experience by saying, "There are many paths to the future. Being a teacher of the day was like a strong wind which uncovered a new path for me. This experience helped me discover a new dream."